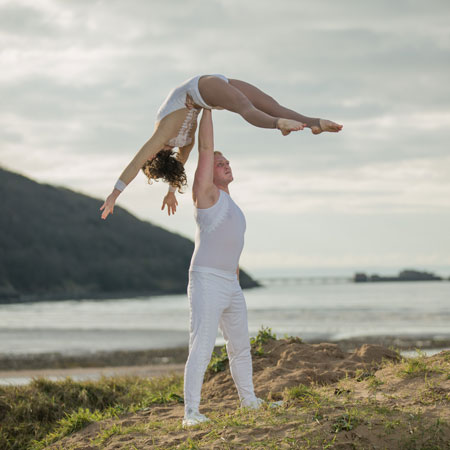 Hand to Hand Acrobatic Duo
Our acrobatic duo's adagio balance act will stun guests with its incredible feats of strength and poise
Stunning acrobalance choreography is set to strong and rousing music
Beautiful yet simple white embroidered costumes let the adagio balance moves do all the talking
Our talented acrobatic performers have years of professional experience and are experts in partner balance
Based in Bristol, UK, our Hand to Hand Acrobatic Duo is available for international bookings
Hand to Hand Acrobatic Duo PHOTOS
For a stunning after dinner performance or stage show, consider our beautifully choreographed Hand to Hand Acrobatic Duo act. 
Dressed in elegantly simple embroidered white costumes, our acrobalance artists perform their stunning acrobatic choreography with aplomb. 
Graceful and elegant, our two acrobatic performers deliver sensational adagio balance moves, combining lifts, balances and flexibility in impressive feats of strength and poise. 
Danced to powerfully strong and rousing music, our partner balance show makes for mesmerising and moving viewing. Guests won't be able to take their eyes off our acrobatic performer's nimble moves as they shift weightlessly from one stunt to another. 
Watch as our male acrobalance artist effortlessly elevates his female partner high above his head to perform standing balances from one leg, handstands, and horizontal holds high in the air. Both acrobatic performers boast incredible agility and have worked hard to craft a personal style over their professional careers. 
A fabulous option for corporate entertaining, festivals, high-end parties, and alternative wedding entertainment, our beautiful Hand to Hand Acrobatic Duo is a must have for events looking to strike an elegant and refined atmosphere. 
Top Tip:
Should you like to commission a bespoke show, our talented acrobatic performers are happy to work with you to develop tailored choreography for a truly special performance. Experienced in product launches and reveals, no event is too big or small for our partner balance duo.  
Experts in partner balance, our male acrobalance artist produced his first sell out show at just 17 years old, before going on to study a degree in Contemporary Circus and Physical Theatre at Circomedia.
Discover additional hand to hand balance and acrobatic duos on our extensive roster. 
To book this graceful partner balance show and wow your guests, get in touch with our dedicated team of Entertainment Experts.