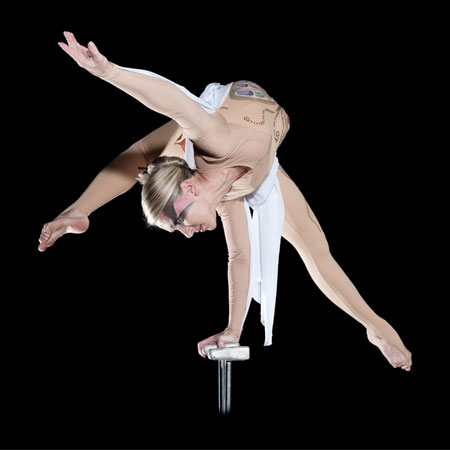 Handstand Butterfly Showact
Stunning Butterfly Handbalancing show creates an unforgettable atmosphere
Classical equilibristic, impulsive music & special fan blowing effects
Performed internationally in USA, UAE, Japan, France, Germany, Spain...
Can also perform an amazing hula hoop show act
Based in Stuttgart, Germany & available to perform at events worldwide
Handstand Butterfly Showact PHOTOS
Stuttgart based acrobat Marina presents the "Butterfly" Handbalancing show act. It is a combination of classical equilibristic, impulsive music and special fan blowing effects which will create an unforgettable atmosphere for your event and will be perfect entertainment for your guests.
Since her first performance at the international circus festival in Sarastoa (USA) at the age of 10, Marina has worked at many different events and Variety shows including: MSC Cruises, Gardaland Park, Witzigmann Roncalli Bajazzo, Friedrichsbau Varieté and United Arab Emirates 'Summer in Abu Dhabi'.
The handbalancing show act performed by Marina shows the beauty and spirit of a real Butterfly elegance. An exclusive table construction with integrated fan blowing effects gives a very unique charisma of the act.
1995 - debuting in the USA at the circus festival (Sarasota/USA)
1997 - received the rank of Laureate in Ukrainian Circus Festival (Kiev/Ukraine)
1998 - Grand Prix in Hungary at the international Festival of Vesprem (Vesprem/Hungary)
2000/2001 - Lebanon TV show (Beirut/Lebanon)
2002 - 5 Stars hotel entertainment (Berlik/Turkey)
2004 - Japan Dinner Shows (Sapporo/Japan)
2006 - 'Witzigmann and Roncallli' Bajazzo Dinner Show (Munich/Germany)
2007 - Ice show (Marseille/France)
2007/2008 - Dinnershows (Seoul/South Korea)
2008 - United Arab Emirates 'Summer in Abu Dhabi' (Abu Dhabi/UAE)
2008/2009 - Dinner entertainment at cruise ship MSC Melody (Durban/South Africa)
2010 - Move to Stuttgart lern German (Stuttgart/Germany)
2010 - Sylvester Gala Friedrichsbau Variety (Stuttgart/Germany)
2011 - Gardaland (Peschiera del Garda/Italy)
2012 - Starclub Variety (Kassel/Germany)
2012 - Viva Las Vegas/ Friedrichsbau Variety (Stuttgart/Germany)
2012 - Cipriani (Ibiza/Spain)
Resume