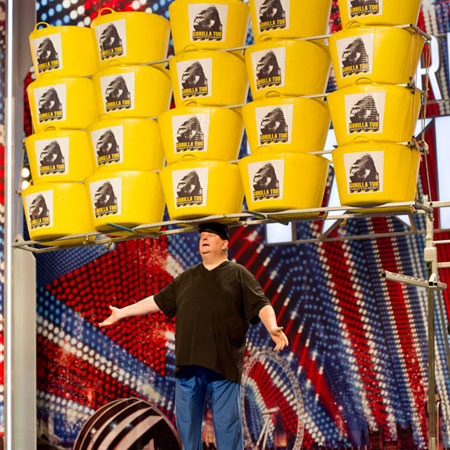 Head Balancing Strongman John
Extraordinary head balance artist has over 44 Guinness World Records to his name!
Can balance a mini cooper car, 20 gorilla tubs, tyre tower, crate stack & much more
Has made TV appearances in the UK, USA, Japan & South Korea
Perfect for festivals, family & public events, TV appearances & much more
Book our head balancing strongman for events in the UK, Europe & worldwide
Head Balancing Strongman John PHOTOS
Our Guinness World Record holding strongman offers a balance act with a difference! A world-renowned head balance artist known for his incredible skill our performer has taken head balancing to the next level and is sure to cause a stir at any event.
Our head balancing strongman has been performing at festivals, public events, exhibitions and corporate events for over 20 years. With over 44 world records to his name our head balance artist has a whole range of balance acts up his sleeve and can mix and match his acts to create a 30 to 40 minute show perfectly suited to your event and audience. His head balancing acts include:
Dr Who Tardis
20ft Vertical Pole
Kid's Quad Bike
10 Tyres Tall (World Record)
Noddy Car (World Record)
200 Pints of Beer
20 Gorilla Tubs (BGT 2011)
Mini Cooper Car (World Record)
An element of audience participation can be added into his performances, which involves inviting members of the audience to take part in their own mini head balance challenge consisting of plastic cups and a tray! This interactive entertainment element is perfect for public events and festivals with children and adults, as well as more formal events where you can get a VIP guests involved.
Not just a performer at live events, our Guinness World Record holding balance act has also made countless TV appearances both in the UK and aboard, appearing on TFI Friday with Chris Evans and the Paul O'Grady Show in the UK, as well as The Jay Leno Tonight Show in the USA, and Japan's 'Unbelievable Acts on Earth'. You may also recognise him from his 2011 appearance on Britain's Got Talent.
If you'd like to find out more about our head balancing strongman John, his act and who it could work at your event get in contact with our entertainment coordinators who are on hand to help.