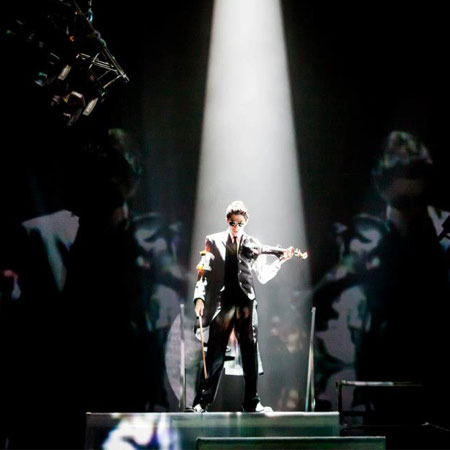 High Speed Electric Violinist
Incredible wow-factor electric violin performances will amaze audiences
Holds a Guinness World Record for 'Fastest Violinist in the World'
Has released several albums and performed with international artists
Perfect for conferences, corporate events, gala dinners and award ceremonies
Based in Canada and available to book to perform at events worldwide
High Speed Electric Violinist VIDEOS
High Speed Electric Violinist PHOTOS
Our incredibly talented young violinist in Montreal gives electric violin performances unlike any that you will have seen or heard before!
Having previously tasted success on 'On n'a pas toute la soirée' hosted by Éric Salvail and been announced the winner of the show 'Sucré Salé' (VAT) as voted for by the public, our Montreal violinist has a huge fan base and is a favourite with big corporate clients, TV shows and VIP private events.
Also a fantastic composer in addition to being a virtuoso violinist, our electric violin player has released several critically acclaimed albums, composed string arrangements for various award-winning albums and shared the stage with international artist such as Mr. Sharp, K-Maro, T-Pain, and DJ Shortcut to name just a few.
Not just any violinist, he's also the holder of the Guinness World Record Title 'Fastest Violinist in the World' which was set in 2011 and has yet to be beaten. And it is not just this that sets him apart, as a talented composer, our High Speed Violinist is also renowned for his ability to improvise in any style on the spot - ensuring that his live performances are unique, exciting and completely captivating.
A true showman, world-class musician and violinist, and born performer, book our high speed violinist for your event and you will not be disappointed.
Top Tip
Want to add even more wow factor to his violin show? Talk to one of our entertainment coordinators about booking a live band to perform behind him and professional dancers to perform alongside him!
If you would like to hire our High Speed Electric Violinisr, don't hesitate to get in touch with us today and make an enquiry. 
Luc Petit Creations
Groupe Yvon Michel
Marcel Aubut (Gala Triomphe)
New City Gas
One Drop
Buona Note
Canadian Cancer Foundation
Archambault
Air Canada
Franco Dragone
Les Violons d'Automne
Bell
CSDM repeatedly Montreal Botanical Gardens
Beaugarte
Circus Sun
Multiple Sclerosis Foundation
Molson Cruises Boats
St-Hubert
Shoppers Drug Mart
Just for Laughs