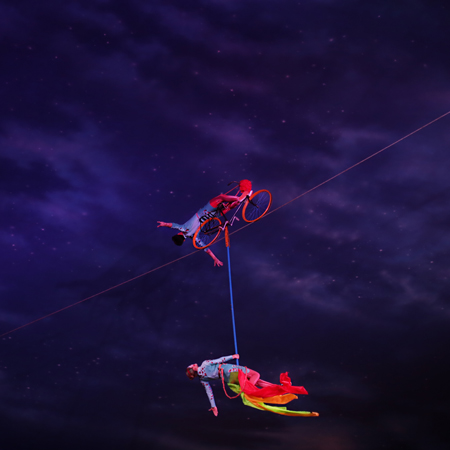 High Wire Bike Act China
Tantalising high wire act with a floating aerialist and an old vintage bicycle
Three performers amaze guests, way up in the sky, with stunning balancing acts
Guarantees to captive all guests, even those with vertigo
A great aerial show to book as part of a variety performance or gala
Based in Zhengzhou, this original circus act is available throughout China and worldwide
High Wire Bike Act China PHOTOS
This tantalising circus act will have your guests on the edge of their seats as they stare in amazement high up above their heads. The stunning high wire act is a visually captivating performance with acrobatics, an aerialist and the jaw-dropping addition of a cyclist riding on a rickety old bicycle you would expect your grandparents to have. If your guests have vertigo, they are still guaranteed to have one eye open, watching the Chinese high wire bike act. 
A high wire act with a difference 
The cyclist is the focal point of this stunning aerial show. Even though he rides on an old vintage bicycle, it has been colourfully decorated to match the colours of the performers' costumes. A graceful aerialist with long flowing ribbons is attached to the bike and swoops over the crowds. A third high wire artist joins in and all three performs frightening balancing acts that keep the audience in complete awe. Even the cyclist can be seen balancing off his bike hundreds of feet above the crowd.
Aerial show for large scale shows and corporate events
Our High Wire Bike Act is a show stopper that guarantees to captivate your audience's attention for the duration. The aerial show is great as part of a variety performance, especially if you have several different acts both on stage and in the air. The Chinese high wire act can be booked for any venue or location with a rigging point whether it is indoors or outdoors. 
Circus acts for all occasions all over the world
Based in Zhengzhou, the Chinese high wire bike act is part of an elaborate circus act team that specialises in stunning acrobatics and dance entertainment for events throughout China and worldwide. If you would like to book the high wire act or find out about other exciting Chinese entertainment options, please contact us.