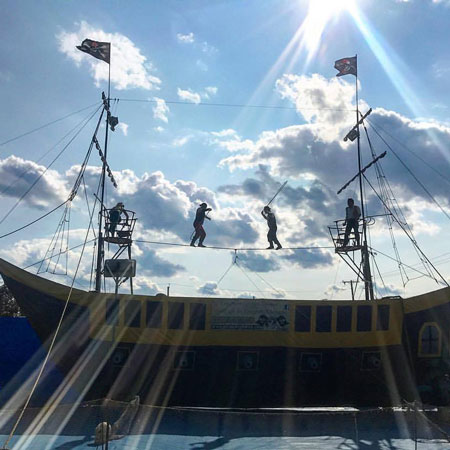 High Wire Pirate Show
High octane high wire pirate show takes audiences on a pirate adventure packed with daring stunts, sword fights and mermaids
Good vs bad pirates in the exciting battle for the treasure map
Colombia pirate show features wheel of death, pirate ship and high wire stunts
Characters wear authentic pirate costumes and perform to suspenseful music with lighting and smoke effects
Based in Florida and available for worldwide bookings
High Wire Pirate Show PHOTOS
A high octane high wire pirate show that takes audiences on a pirate adventure like never before! A thrilling show that is packed with daring stunts, sword fights, mermaids and more our Colombia pirate show delights all audiences as they perform dramatic stunts high above the ground. 
Incorporating a world famous high wire act and legendary wheel of death act on a giant pirate ship, this is your typical good vs bad pirate showdown as they go head to head in the never ending battle for the treasure map. A show that tells a gripping story whilst being suspended on a thin wire 30 feet in the air over a pirate ship, our high wire pirate show is a thrill for all ages with stunts happening all over the place with smoke and lighting effects making the production that extra bit more dramatic. 
With over 70 years of combined experience performing on a high wire, these exceptional pirate characters showcase acrobatics, sword fighting, two man high skipping rope stunts, and various other daring feats. With a wheel of death stunt in the disguise of a skull and crossbones, watch as our pirate adventure goes to new levels as our characters jump, somersault and sword fight all whilst rotating on an axis. 
Wearing authentic pirate costumes complete with the phenomenal pirate ship set, this Colombia pirate show boasts the ultimate entrainment option for any pirate theme or under the sea themed event. Combining suspenseful music with lighting, smoke effects and tremendous story telling, this pirate adventure is unlike any other pirate show. 
Having performed all over the world, this high octane high wire pirate show as been showcased in Japan, Bermuda, Canada, Germany, Jamaica and the Bahamas as well as at fairs, festivals and amusement parks in the USA. Representing the 10th generation of circus performing/high wire walking family, this colombia pirate show has been perfected and crafted into a thrilling showstopper that provides audiences with memories to last a lifetime. 
With mermaids and pirates performing daring stunts from above, this brilliant pirate theme show is perfect for festivals, fairs, under the sea themed and corporate events. 
To book our high wire pirate show or for more information, contact our Entertainment Specialists today.
Allen County Fair - Lima
American Legion Post #64 Fair - Okeechobee
Augusta County Fair - Fisherville
Big Butler Fair - Prospect
Boone County Fair - Belvidere
Cajun Heartland State Fair - Lafayette
Calvert County Fair - Prince Frederick
Casual Cal's Bumpin' Big Show Circus - Nassau & Freeport
Central Carolina Fair - Greensboro
Circus Bahamas - Multiple locations
Cleveland County Fair - Shelby
Coastal Carolina Fair - Ladson (2 years)
Collier County Fair - Naples
Columbus County Agricultural Fair - Whiteville
Cumberland County Fair - Fayetteville
Danville Pittsylvania County Fair - Ringgold
Dream Circus in Huis Ten Bosch theme park - Nagasaki
Dutchess County Fair - Rhinebeck
Elkhart County Fair - Goshen
Fair at Heritage Park - Simpsonville
Florida Rennaisance Festival - Deefield Beach
Gibtown Bike Week - Gibsonton
Great New York State Fair - Syracuse
Greene County Fair - Xenia
Hardee County Fair - Wauchula (3 years)
Hunterdon County Fair - Lambertville
Jersey County Fair - Jerseyville
Kiwanis Coweta County Fair - Nunan
Lackawanna Festival - Lackawanna
Logan County Fair - Bellefontaine
Los Angeles County Fair - Pomona (3 years)
Mardi Gras Casino - Hallendale (3 years)
Miami Seaquarium  - Miami (3 years)
Monmouth County Fair - Freehold
New Year's Eve Celebration - Webster Hall N.Y.C.
North Carolina State Fair - Raleigh (2 years)
Northeast Alabama State Fair - Huntsville
Okefenokee Fair - Waycross
Osceola County Fair - Kissimmee
Permian Basin Fair & Exposition - Odessa
Pitt County Fair - Greenville
President's Fest - Sunrise
Red River Valley Fair - Paris
Robeson County Fair - Lumberton
Rockingham County Fair - Harrisonburg
SMS Italian Festival - Netcong
Sea Paradise Park - Yokohama
Southern California Fair - Perris
Southwest Florida & Lee County Fair - Fort Myers (2 years)
Stark County Fair - Canton
The Great Schaghticoke Fair - Schaghticoke
Vance County Fair - Henderson
Walking Tall Movie Premiere - Times Square N.Y.C.
Washington County Fair - Washington
Western Carolina State Fair - Aiken
Wilson County Fair - Wilson
Wyoming County Fair - Meshoppen
​Barber Vintage Motorsports Festival - Birmingham Alabama
​Broward County Fair - Hallandale Beach
​Iredell County Fair - Troutman
​Wayne County Fair - Dudley
Alabama National Fair - Montgomery
Altamont Fair - Altamont
Aqua Live Circus - Onoda City
Baldwin County Fair - Robertsdale
Bloomsburg Fair - Bloomsburg
Buc Days - Corpus Christi
Caledonia County Fair - Lyndonville
Caribbean Spring Carnival - Fort Lauderdale
Cecil County Fair - Elkton
Chowan County Regional Fair - Edenton
Clay County Fair - Green Cove Springs (2 years)
Clinton County Fair - Plattsburgh
Coastal Empire Fair - Savannah
Columbia County Fair - Lake City
Contraband Days - Lake Charles
D.C. Capital Fair - Washington D.C.
Dr. Martin Luther King Celebration - Deerfield Beach
Duplin Agribusiness Fair - Kenansville
Elberton 12 County Fair - Elberton
Exchange Club Fair - Brunswick
Fayette County Fair - Dunbar
Florida Strawberry Festival - Plant City
Great Anderson County Fair - Anderson
Greater Columbus Fair - Columbus
Hamburg Family Fun Fest - Whitemore Lake
Hickory American Legion Fair - Hickory
Iguana Park - Santo Domingo
Kat Tun Concerts - Tokyo Dome & Kayosera Dome Osaka
Kiwanis Ogeechee Fair - Statesboro
Lee County Regional Fair - Sanford
Long Island Fun Fest - Brentwood
Manatee County Fair - Palmetto
McKean County Fair - Smethport
Millers Thrillers Haunted Woods - Columbia
Nebraska State Fair - Grand Island
North Brunswick Youth Sports Festival - North Brunswick
North Georgia Agricultural Fair - Dalton
Northwest Florida Fair - Fort Walton Beach
Orleans County 4-H Fair - Albion
Otsego County Fair - Morris
Pirates of the Colombian Caribbean in Huis Ten Bosch - Nagasaki
Poteet Strawberry Festival - Poteet
Queen City Fair - Concord
Richmond County Agricutural Fair - Hamlet
Rocket City Fair - Huntsville
Rowan County Fair - Salisbury
Salem Fair - Salem
South Mississippi Summer Fair - Biloxi
Southern New Mexico State Fair - Las Cruces
Space Coast State Fair - Brevard
State Fair of West Virginia - Lewisburg
Tropicana Casino - Atlantic City
Vermont State Fair - Rutland
Warren County Fair - Lebanon
Washington Town & Country Fair - Washington
Westfair County Fair - Council Bluffs
Winona Steamboat Days - Winona
York Fair - York
​Boonville Oneida County Fair - Boonville
​Franklin - Southhampton County Fair - Courtland
​Loudoun County Fair - Leesburg
Allegany County Fair - Cumberland
IDEA ARTICLES RELATED TO High Wire Pirate Show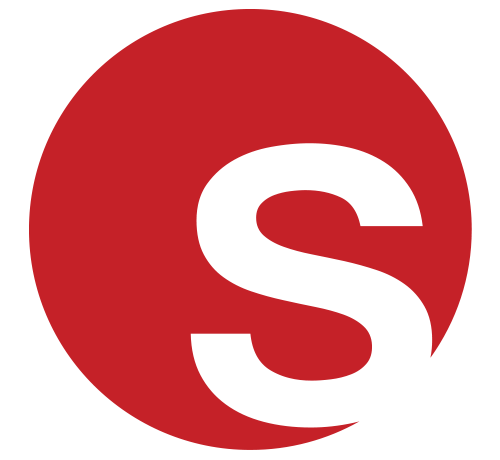 Our Most Popular Event Themes from 2018 and What to Expect for 2019
Our Most Popular Event Themes from 2018 and What to Expect for 2019
Juliana Rodriguez
|
19/10/2018