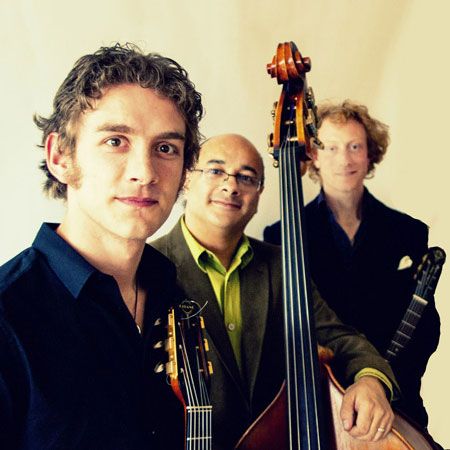 Hot Club Guitarist UK
Multi-award-winning gypsy jazz guitarist
Available as a soloist, duet and trio including extra guitar and double bass
Internationally recognised as a leading jazz guitarist
Diverse, foot-stomping styles including blues, jazz and rock
Midlands-based act available for bookings worldwide
Hot Club Guitarist UK VIDEOS
Hot Club Guitarist UK PHOTOS
With international bookings at prestigious jazz festivals including Montreal, Brecon and Cheltenham as well as appearances at the highest-end of venues, including Buckingham Palace and the Royal Albert Hall, this is a gypsy guitarist that knows how to play! As a jazz soloist as well as a Hot Club duo and trio, our jazz guitarist can bring life and soul to events of any description. The act is at the forefront of the renaissance in gypsy jazz and has made waves with his sound all over the world.
His extraordinary playing isn't limited to gypsy jazz. With inspiration from greats such as Stan Getz and Wes Montgomery as well as the inimitable Django Reinhardt, among many others, there is a broad jazz influence audible in his playing. Throw in blues colouring and the rock idols of the 1960s and 70s, and you get a very unique style that has something for everyone.
Able to go out as a jazz soloist and play a set of originals, covers and standards, our gypsy guitarist can bring a discreet and atmospheric set to your event that loses none of its wow factor. The sophistication of his playing will impress connoisseurs, while its likability will rub off on everybody else.
For more energy and to allow for greater virtuosic freedom, a duo and trio option can be added. The duo provides another guitar, giving rhythm and harmony to underpin lightning fast improvised runs on the lead guitar. Finally, a double bassist can be brought to enhance the rhythm and give it depth whilst adding another master musician into the mix. 
This act is one of the top artists of his genre and must be seen to truly be appreciated. While the videos below will give you some idea, they fail to capture the dynamism and electricity of a band like this playing live!
To book the jazz soloist, duo or trio, contact our dedicated entertainment specialists today!
Terry Wogan Show BBC Radio 2
Hay-On-Wye Festival
Bennetts Lane Jazz Club Melbourne Australia
The Good Life Experience Flintshire
Brecon Jazz Festival
Birmingham Town Hall
Upton Jazz Festival
Rock and Blues Festival Derbyshire
Careggi in Musica Florence Italy
Buckingham Palace
In Tune BBC Radio 3
Montreal Jazz Festival Canada
Hereford Cathedral
The Camelot Lounge Sydney Australia
Bromyard Folk Festival
Ribble Valley Jazz Festival Lancashire
Cheltenham Jazz Festival
The Good Life Experience Wales
Jamie Cullum Show BBC Radio 2
BBC Proms at The Royal Albert Hall London with Jamie Cullum (Broadcast on BBC 4 and live on BBC Radio 3)
Liverpool Philharmonic Hall
Festival Django Reinhardt Samois Sur Seine France
Nozstock Herefordshire
Mr Kyps Poole
Le Quecumbar London
Bournemouth Opera House
La Cite Florence Italy
Fest Jazz Châteauneuf-du-Faou France
The Chris Evans Breakfast Show BBC Radio 2 with Jamie Cullum
Big Centre TV
Brisbane Jazz Club Brisbane Australia
The Acoustic Festival of Britain
The Stables Milton Keynes
Ullapool Guitar Festival Scotland
Musique-Cordiale Festival Seillans France
Djangofestivalen at Cosmopolite Oslo Norway
Kings Place London
" Incredible guitarist... I'm absolutely blown away by his talent "

Jamie Cullum