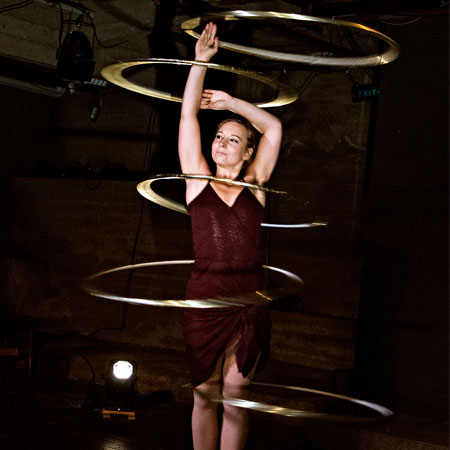 Hula Hoop Circus Performer
Offering personalised shows, our circus performer brings grace & skill to every fantastic display
Specialising in bubble shows & hula hooping, our talented artist provides lively, entertaining performances
Having studied the art of circus entertainment in Finland, this performer is beautiful, charismatic & energetic
Has performed on the Viking Line, for the Biathlon World Championship Opening Ceremony, Future Circus Festival & Canon
Book Hula Hoop Circus Performer for events in Helsinki & worldwide
Hula Hoop Circus Performer PHOTOS
Premier booking agency Scarlett Entertainment is one of the world leaders when it comes to providing spectacular live circus entertainment. Whether you are looking for a full show, a fun walkabout act or ambient entertainment, we can find the perfect artist to match your occasion. A talented professional, our Hula Hoop Circus Performer is highly sought-after to perform at amazing events all over the world. Based in Helsinki and happy to travel throughout Scandinavia and internationally, you will be captivated by this artist's superb performance which combines a hula hoop act with a bubble show. With a talent for scintillating hoop spins and a flair for bubble magic, our soap bubble artist is certain to supply smooth, shimmering entertainment, saturated with personality and a creative touch. 
A charismatic live performer, this circus artist trained at the Arts Academy of Turku before taking her career to a professional level. A naturally warm person with a talent for showmanship, our spectacular circus artist never fails to engage audiences whenever she performs. Offering totally bespoke shows, our performer is both a soap bubble artist and a hula hoop act. Suited to audiences of all ages, our talented artist can perform full shows demonstrating both skills or emphasise one particular circus entertainment option. 
Able to perform a full hoop or bubble show or roam around your event, demonstrating her act to guests, this versatile performer can create choreography to incorporate your chosen music choice or event theme. Having worked with a number of high profile clients, performing one-off shows and residencies, our female hoop artist has entertained for Viking Line cruises, the Biathlon World Championship Opening Ceremony and Winter Circus Kosmos. Perfect for festivals, theatre shows, corporate events and parties, this fun and mobile act will bring a smile to audiences' faces, whatever the occasion! For more information about booking Hula Hoop Circus Performer for your event, please contact our team at Scarlett Entertainment today.