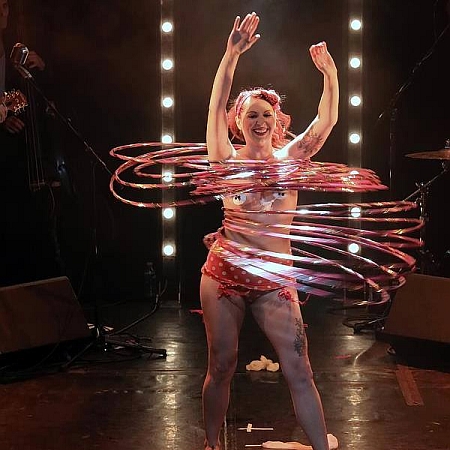 Hula Hoop Performer Paris
Top class entertainment with fresh and exciting hula hoop routines
Performs a 1950s themed show & a burlesque and cabaret striptease
As seen on TV shows Le Grand 8 & France 2 Comment ça va bien
Previous clients include KENZO, Hermes, Carnaval De Paris...
Based in Paris and available to perform at events worldwide
Hula Hoop Performer Paris PHOTOS
Paris based Hula Hoop Performer is a one woman show of pure, unadulterated hoop tease pleasure. She dazzles her audience with her classy hula hoop routines combined with variations of fire, LED, Burlesque, and themed props.
Conceptualized in 2011, she started performing in clubs and cabarets around France and began making a name for herself as a scintillating master of the hula hoop. To date, she has performed her shows around France and Europe, performing for the likes of KENZO, Hermes, and on TV Shows Le Grand 8 and Doctissimo Fitness.
Some of her hit routines include the 1950s themed Rock Fever; circus, burlesque and cabaret striptease in Circus Tease; and fire hula hooping in Hell Girl.
Les Galeries Lafayette - Fashion Sport - 2013
La Foire de Paris 2013
L'Eté Defacto
World BodyPainting Festival 2013 - Autriche
France 2 C'est au programme
Le Grand 8
Corporate Clients
Hermès - Inauguration de la Cité des Métiers - 2013
Carnaval de Paris 2013
Assureurs Prévention - On va bouger objectif 10 000 pas
Maskerade Festival 2013 - Pays-Bas
Television
France 2 Comment ça va bien
Doctissimo Fitness
KENZO - Vogue Fashion Night Out in Paris - 2012