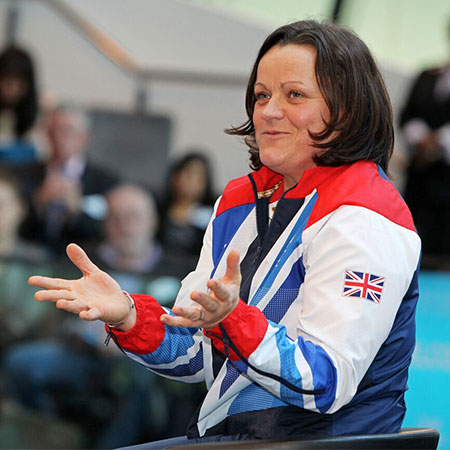 Inspirational Speaker Martine
Paralympian and Inspirational Speaker with a truly motivational life story and journey towards recovery
7/7 bombing survivor inspires people by sharing her story of personal triumph over adversity
A successful Paralympic athlete and captain of Great Britain Women's Sitting Volleyball team
Was awarded Inspirational Women of the Year 2012 and appointed Team London Leader by Major of London Boris Johnson
Martine Wright is based is Hertfordshire and available for talks in the UK and overseas
Paralympian and inspirational speaker Martine Wright lost both legs in the London terrorist attacks of 2005. Ever since, this 7/7 bombing survivor rebuilt her life and has shared her inspirational journey and touching story of personal triumph over adversity with the world.
On 6 July 2005, Martine celebrated the announcement of the host city for the 2012 Olympic and Paralympic games with her work friends. The next day, her life changed when she took the Circle Line in the morning and sat next to one of the suicide bombers. After the worst terrorist attacks in British history, she started a long and hard journey towards recovery. Along the way, she became interested in sports, ultimately becoming member and captain of the Great Britain Women's Sitting Volleyball team.
Martine was awarded Inspirational Women of the Year 2012 and appointed Team London Leader by Major of London Boris Johnson, which are only a few of her many achievements and recognitions. Prior to her participation in the 2012 Paralympic Games, her most outstanding sporting achievement was beating Canada at the 2010 World Championships. Also a published author, this Paralympic athlete shared her story in her book 'Unbroken. My story of survival, from 7/7 bombings to Paralympics success'.
Martine graduated from the University of East London in 1996 with a degree in Psychology and Communication Studies and worked as International Marketing Manager for CNET before the 7/7 bombings. Now a sports speaker who inspires thousands with her powerful speeches, Martine is the patron of five charities and serves as a keynote speaker at numerous high-profile events across the UK. With the ability to address hundreds of people and yet make everybody feel she is chatting with them alone, Martine manages to create an informal and relaxed atmosphere during her talks.
Some of the key speaking topics this successful Paralympian and motivational speaker discusses during her speeches are:
Embracing change 
Maximising true opportunity
Overcoming Adversity
Teamwork
Communication
Marginal Gain
Diversity
Belief and Ownership
This Paralympic athlete made her sporting debut in 2010 and, after the attacks, she has also learned to fly an aircraft, to ski and has skydived from 10,000 feet, not to mention her most exciting adventure: getting married and giving birth to her first child.
If you would like to check Marine Wright availability for your event, contact us today and ask to speak to one of our Entertainment Coordinators. 
" She did a great job and really tried to tailor her story to our event objectives. I wanted a speaker that touched the heart strings of our audience and one who was an inspiration to them too – she most certainly achieved this. "

Carlson Wagonlit
" She was very inspiring, everyone had a lot to take away with them - she was good at relating her stories to our audience. "

Anytime Fitness
" Martine Wright gave a truly inspiring talk with plenty of take aways and made it relevant to our audience, sticking to the brief and meeting our objectives. She was also a pleasure to deal with and extremely helpful. "

King & Wood Mallesons LLP
" Our customers had nothing but praise and thanks for the speech that she gave which was really thought provoking and makes you see yourself and the world in a different way "

Jeremy Payne  Group VP Marketing  Enghouse
" Martine Wright more than met our objectives and was an exceptional speaker. The call we had with her before the event was much appreciated and helped to ensure everything ran smoothly on the day. Her manner and tone was really engaging and the use of audio/visual elements kept the audiences attention. "

Vale of Aylesbury Housing