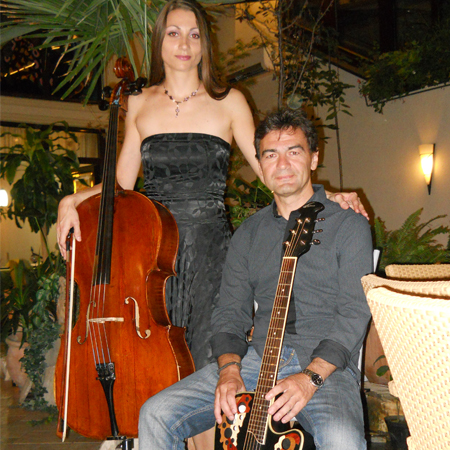 Instrumental Duo Serbia
Soothing instrumental performances will create a sophisticated ambiance
Perform with backing tracks, all parts recorded by themselves
Repertoire inc. hits from the 50s – 90s, movie soundtracks & waltzes
A perfect accompaniment to weddings, hotels, dinners & special occasions
Based in Serbia & available to perform at events worldwide
If you're looking for smooth instrumental entertainment to create a sophisticated feel and add ambiance to your event, look no further than our talented duo from Serbia.
Combining the soothing sounds of the acoustic guitar and cello, this duo play from an extensive repertoire that covers classics hits from the 50s right up until the 90s, well-known pieces from movie soundtracks, waltzes and more traditional classical songs. Adapting popular rock melodies to classical instruments, performed with backing tracks that they have recorded with different instruments themselves, this duo have created a unique performance style that sets them apart from other acoustic duos.
Able to adapt their set list and style of performance to upbeat songs and mellow ballads, they offer versatile musical entertainment perfect for a diverse range of occasions, from weddings and special celebrations, to dinners and corporate events.
Both halves of this duo have extensive experience performing around the world in major concert halls, with orchestras and on prestigious cruise ships. Experts at entertaining audiences of all sizes, ages and nationalities, this exciting instrumental acoustic duo will be a hit with guests at your event!
All I have to do is dream – Everly brothers
Always on my mind – Elvis Presley
And I love her – The Beatles
Are you lonesome tonight – Elvis Presley
Can't help falling in love – Elvis Presley
It's now or never – Elvis Presley
Besame mucho – Consuelo Velázquez
Crazy – Patsy Cline
Delilah – Tom Jones
Crying time – Ray Charles
Fascination – Nat King Cole
Fly me to the moon – Frank Sinatra
Greenfields – Brothers four
Green green grass of home – Tom Jones
I can't stop loving you – Ray Charles
It's now or never – Elvis Presley
La vie en rose – Louis Armstrong
Love me tender – Elvis Presley
Michelle – The Beatles
My way – Frank Sinatra
Nights in white satin – Moody blues
Only you – The Platters
Que sera sera – Doris Day
Raindrops keep falling on my head – B. J. Thomas
Something stupid – Frank and Nancy Sinatra
Somethings gotten hold on my heart – David and Jonathan (Gene Pitney)
Spanish eyes – Al Martino
Strangers in the night – Frank Sinatra
Summertime – George Gershwin
Tell Laura I love her – Ray Peterson
The winner takes it all – ABBA
Those were the days – Mary Hopkin
Unchained melody – Righteous brothers
When a man loves a woman – Percy Sledge
Wonderful world – Louis Armstrong
Yesterday – The Beatles
You've lost that loving feeling – Righteous Brothers
70's
Ain't no sunshine – Bill Withers
A whiter shade of pale – Procol Harum
Bridge over troubled water – Simon and Garfunkel
Dust in the wind – Kansas
El condor pasa – Simon and Garfunkel
Europa – Santana
Feelings – Moris Albert
Forever and ever – Demis Roussos
Godbye my love godbye – Demis Roussos
Have you ever seen the rain – CCR
House of the rising sun – The Animals
Imagine – John Lennon
Killing me softly – Roberta Flack
Knocking on Heaven's door – Bob Dylan
Love you more than I can say – Leo Sayer
Massachusetts – Bee Gees
Mull of Kintyre – Paul McCartney
My friend the wind – Demis Roussos
Perfect day – Lou Reed
Samba pa ti – Santana
She – Charles Aznavour
Sound of silence – Simon and Garfunkel
Stand by me – Ben E. King
The winner takes it all – ABBA
The shadow of your smile – Barbara Streisand
This Masquerade – The Carpenters
When I need you – Leo Sayer
Woman in love – Barbara Streisand
Wonderful tonight – Eric Clapton
50's & 60's
Blue eyes – Elton John
Boat on the river – Styx
Careless whisper – George Michael
Come undone – Duran Duran
Forever young – Alphaville
Hello – Lionel Richie
I just call to say I love you – Stevie Wonder
Je t'aime – Lara Fabian
Kiss from a rose – Seal
Lady – Kenny Rogers
Lady in red – Cris de Burgh
Lasciate mi cantare – Toto Cutugno
Moonflower – Santana
My all – Mariah Carey
Nothing else matters – Metallica
Right here waiting – Richard Marx
Sailing – Rod Stewart
Sealed with a kiss – The four voices (Jason Donovan)
Senza una dona – Zucchero & Paul Young
Show must go on – Queen
Sign your name – T.T. D'Arby
Stop – Sam Brown
Trista pena – Gipsy Kings
Twist in my sobriety – Tanita Tikaram
Wish you were here – Blackmoore's night
Wonderful life – Black
You're my everything – Santa Esmeralda
Movie Soundtracks
Beautiful Maria of my soul – Los Lobos ("Mambo Kings" movie soundtrack)
Godfather theme – "The Godfather" movie soundtrack
Hopelessly devoted to you – "Grease" movie soundtrack
I don't wanna miss a thing – "Armagedon" movie soundtrack
Lady lady lady – "Flashdance" movie soundtrack
Love story – "Love story" movie soundtrack
Moon river – "Breakfast at Tiffany's" movie soundtrack
My heart will go on – "Titanic" movie soundtrack
Skyfall – Adelle ("James Bond" movie soundtrack)
Somewhere over the Rainbow – "The Wizard of Oz" movie soundtrack
The Deer hunter – "The Deer hunter" movie soundtrack
Who wants to live forever – Queen ("Highlander" movie soundtrack)
Waltzes & Traditional
Amazing Grace – Traditional folk song
European Waltz
German Waltz
Greensleeves – traditional folk song
sole mio – Eduardo di Capua
Scarborough fair – Traditional folk song
Shostakovich Waltz no. 2 – Dmitrij Shostakovich
Tennesse waltz – Patty Page
Texas waltz – Traditional
The last waltz – Engelbert Humperdinck
80's & 90's