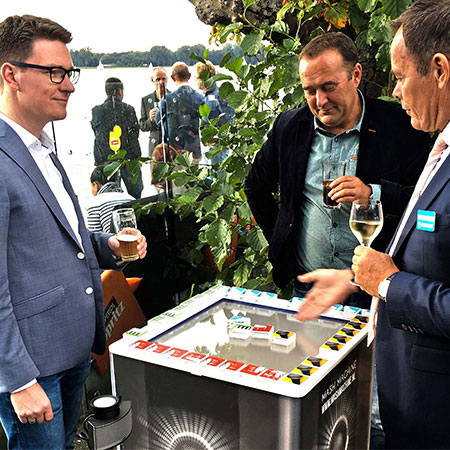 Interactive Sound System
Innovative musical instrument allows anybody to create and mix music
Participants need to drop objects in and out of the play area to find the perfect composition with vocals, melodies, drums and bass
Interactive music box is fully customisable and it can be branded with your logo, corporate colours and other elements
Unique music entertainment ideal for exhibitions, trade fairs, product launches, corporate occasions, etc.
This Interactive Sound System is available for bookings in Holland and overseas
Interactive Sound System PHOTOS
Have you ever imagined playing music without knowing how to play an instrument? This is now possible with this Interactive Sound System, an innovative musical instrument that will make possible for everybody to make music.
This innovative concept is guaranteed to be the highlight of your upcoming event. Guests at your party will queue up to give it a try and witness how a spectacular mix of music elements is created by themselves. This innovative musical instrument works when the items on top of the box are in contact with the interface. This way, this interactive music box makes it possible for anybody to create and mix music.
Our interactive music box is fully customisable. It can be branded with your company logo, corporate colours or any other images. This makes it the perfect for promotional events, product launches and any other corporate occasion.
A unique music entertainment for people of all ages, this interactive music machine is loved by children and adults alike. Anybody will become a musician for one day and will be able to experiment with different loops consisting of vocals, different melodies, drums and bass.
Our innovative music instrument makes it possible to generate an experience that appeals to your target audience. It is an original and effective way to catch people's attention and make your brand visible. On top of that, this unique music entertainment option can be personalised, which means our team of experts will turn your ideas into reality and will adapt the machine's layout and elements according to your needs. You can see some creative examples by checking how brands like Heineken or Apple has used this interactive music box to promote their products.
Enquire about this sensational Interactive Sound System by contacting us today. Our wonderful team of Entertainment Experts will be more than happy to answer all the questions you may have about this interactive music machine and guide you through the booking process.
Deloitte
HP
Interface
Mercedes Benz
Nokia
Ramada
Sanoma
Stenden
The Networking
Vodafone
Yokogawa
And many more
Blueprint
Event Exposure
ICI Paris XL
KLM
Microsoft
Phone House
Salesforce
Sensa
Televak Centers
Uprise
Web summit
Cisco Connect