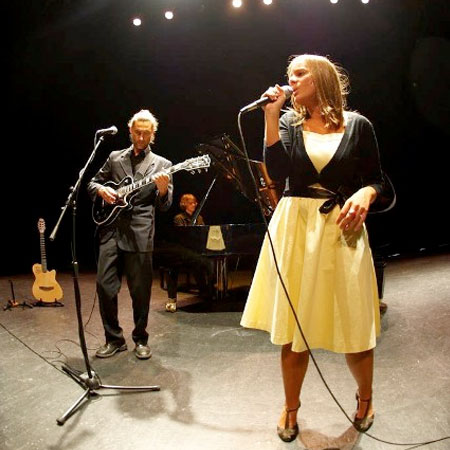 International Band Surya
Performs French party songs, worldwide jazz, international pop & soul
Have a traditional gospel repertoire - Popular with weddings ceremonies
They will create a musical atmosphere according to your wishes
Previous corporate clients include Audi
Based in Paris, France and available to perform at events worldwide
International Band Surya PHOTOS
Combining jazz standards with international pop hits, this band brings a sophisticated but friendly musical atmosphere to your event.  In a warm acoustic ambiance, the piano, the guitar and the percussions accompany two voices in personalized interpretations of the most famous melodies: French songs (from the earliest 20th century to the last decades), worldwide known jazz, soul or pop and rock standards...
From soft ballads to groovy tunes, according to your wishes, they will create a musical atmosphere which will be quiet or inviting to dance, paying a constant attention to a high aesthetical quality.
In wedding ceremonies, Surya sings the traditional gospel repertoire and liturgical chants or any song chosen by the bridegrooms. An unforgettable moment of musical emotion for such a unique day in a life. 
Beautiful Emilie - Keziah Jones
Black Magic Woman - Santana
Boys don't cry - The Cure
Can't get you out of my head - Kylie Minogue
Come away with me - Norah Jones
Don't know why - Norah Jones
Don't leave me this way - Thelma Houston
Don't speak - No doubt
English man in New York - Sting
Eternal Flame - The Bangles
Every breath you take - Sting
Every kinda people - Robert Palmer
Fields of  gold - Sting
Fragile - Sting
Georgia - Ray Charles
Hallelujah - Leonard Cohen/Jeff Buckley
Heart of glass - Blondie
I heard it through the grapevine - Marvin Gaye
I need a dollar - Aloe Blacc
Imagine - The Beatles
Into the groove - Madonna
Ironic - Alanis Morissette
It's probably me - Sting
Jumpin' Jack Flash - The Rolling Stones
Just a gigolo - David Lee Roth
Just my imagination - The Cranberries
Killing me softly - The Fugees
Kiss me - Sixpence none the richer
Kiss - Prince
La isla bonita - Madonna
Le Freak - Chic
Let it be - The Beatles
Life - Des'ree
Like a virgin - Madonna
Losing my religion - REM
Miss you - The Rolling Stones
Moon over Bourbon Street - Sting
Mustang - Sally Wilson Pickett
New soul - Yael Naim
Nothing compares to you - Prince/Sinead O'Connor
One of us - Joan Osborne
One - U2
Only when I sleep - The Corrs
Promise me - Beverly Craven
Proud Mary - Tina Turner
Rehab - Amy Whinehouse
Respect - Aretha Franklin
Rhythm is love - Keziah Jones
Roxanne - The Police
Satisfaction - The Rolling Stones
Save tonight - Eagle Eye Cherry
Set them free - Sting
Sleeping Satellite - Tasmin Archer
Smells like teen spirit - Nirvana (Tori Amos cover)
Smile - Lily Allen
Smooth operator - Sade
Stayin' alive - The Bee Gees
Sunrise - Norah Jones
Sweet dreams - Eurythmics
Sympathy for the devil - The Rolling Stones
Talkin' about a revolution - Tracy Chapman
Thank you - Dido
The Hounds of winter - Sting
Think - Aretha Franklin
This is the life - Amy Macdonald
Time after time - Cindy Lauper
Torn - Natalie Imbruglia
U-Turn - (Lili) Aaron
Walk on the wild side - Lou Reed
Walking on the moon - The Police
What a wonderful world - Louis Armstrong
Winter - Tori Amos
With or without you - U2
Wonderwall - Oasis
Yellow moon - Neville Brothers
Zombie - The Cranberries
Chanson Française
A la faveur de l'automne - Tété
Cézanne peint - France Gall
Divine idylle - Vanessa Paradis
Foule sentimentale - Alain Souchon
Jardin d'hiver - Henry Salvador
Jazz Méditerranée - Henri Salvador
J'envoie valser - Zazie
J'traine des pieds - Olivia Ruiz
L'aquaboniste - Jane Birkin/Serge Gainsbourg
La demeure d'un ciel - Camille
La femme chocolat - Olivia Ruiz
La javanaise - Serge Gainsbourg
L'amour à la machine - Alain Souchon
L'autre bout du monde - Emily Loizeau
Le vent nous portera - Noir désir
M'en voulez vous ? - Pauline Croze
Mise à nu - Pauline Croze
Mon petit vieux - Camille
New-York avec toi - Téléphone
Quelqu'un m'a dit - Carla Bruni
T'es beau - Pauline Croze
Pop Anglophone
Could you be loved - Bob Marley
Get up stand up - Bob Marley
I shot the sherif - Bob Marley
Redemption song - Bob Marley
Rock'n'roll
All shook up
Be bop a Lula
Blue suede shoes
Don't be cruel
Hit the road Jack
Hound dog
Johnny B. goode
Rock around the clock
Tuti frutti
What'd I say
Gospel
Amazing grace
Amen
As I went down
Down by the riverside
Glory Glory Halleluyah
Go down Moses
Happy Day
His eyes on the sparrow
I will follow him
Jesus is Keeping me Alive
Joshua fit the battle of Jericho
Kissing you
Nobody knows the trouble I've seen
Oh When the Saints
This little light of mine
When I think about Jesus
Jazz & Blues
Angel eyes
Beautiful love
But beautiful
But not for me
C'est si bon
Cheek to cheek
Come rain or come shine
Do it the hard way
Dust my broom
Everytime we say goodbye
Feeling good
Fly me to the moon
Hello Dolly
I fall in love too easily
I'll take romance
I've got you under my skin
Let's get lost
Like someone in love
Mack the Knife
My baby just cares for me
My favorite things
My funny Valentine
My ideal
My one and only love
Nature boy
Night and day
On the sunny side of the street
Polkadots and moon beams
Somewhere over the rainbow
Stormy Monday
Summertime
The thrill is gone
There will never be another you
They say it's wonderfull
Too marvelous for words
What a difference a day made
You and the night and the music
You are too beautiful
Chanson Française Ancienne
A Paris dans chaque faubourg - Lys Gauty
Ballade irlandaise - Bourvil
C'est un mauvais garçon - Henri Garat
C'était bien (le bal perdu) - Bourvil
Du gris - Berthe Sylva
J'ai deux amours - Josephine Baker
Jolie môme - Léo Ferré
La Belote - Mistinguett
La bicyclette - Yves Montand
La complainte de la butte - Cora Vaucaire
La foule - Edith Piaf
L'Accordéon - Serge Gainsbourg
Le soleil et la lune - Charles Trenet
Le temps des cerises - Yves Montand
Les amoureux des bancs publics - Georges Brassens
Les feuilles mortes - Yves Montand
Mon amant de Saint Jean - Lucienne Delyle
Padam Padam - Edith Piaf
Quand on s'promène au bord de l'eau - Jean Gabin
Sous le ciel de Paris - Edith Piaf
Sur les quais du vieux Paris - Lucienne Delyle
Syracuse - Henri Salvador
Reggae