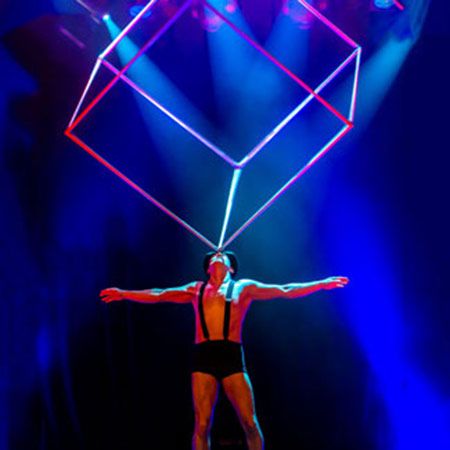 International Cube Act
Known as one of the best cube performances in the world
An impressive one man show combining a mix of circus acts
A large cube is juggled, twirled and spun in sync to music
Previous clients include Casino Le Royale, Magic Fever, Circus Nock
Based in France and available to perform at events worldwide
International Cube Act VIDEOS
International Cube Act PHOTOS
The International Cube Act was created with one goal; to create something unique with a mix of strength, beauty and grace.
This half Italian, half French performer began his artistic career in the circus with a diabolos act. Having joined the one of the biggest European circus' as a truck driver, he later integrated into the troop with an impressive juggling act. Later he began learning other disciplines of the circus such as trapeze, balance and acrobatics and received a contract in a Circus in Las Vegas.
On return in France three years later, Sergio had created an impressive one-man show combining a mix of circus acts, songs and humour, always with an interaction with the audience. The International Cube Act involves Sergio juggling an impressively large cube in sync with music and lighting; the result is a spectacular show that is both a dance and a strength show.
This act has taken Sergio to events and venues worldwide. From the fun-filled quadrangles of Disneyland Paris to the nightlife of Las Vegas, International Cube Act has performed for the young and old alike. He has performed for corporate clients, festivals, circus shows, casinos, and even private parties. His clients include Casino Le Royale, Magic Fever, Circus Nock, the Imperial Palace, and Abbott, among others.
To find out more about how to book contact our team of Entertainment Experts.
Casino "le Royal" - EvianFrance
Casino "imperial Palace" - AnnecyFrance
France2 - Sous Vos Applaudissements
Award "concours International Circa" - France
Circus Sarasani - Holland Tour
Circus Nock - Lugano Switzerland
Abbott Show - San DiegoUsa
Award "festival Espoirs Du Cirque - Belgium
World Athletics Championship - LievinFrance
Theatre Du Marais - Paris France
Park Disneyland - ParisFrance
Advirtising "the Painter"- Quad Prod
Circus Circus Las Vegas
Cabaret "magic Fever" - ParisFrance
Lake Show - Annecy France
France2 - Qui Est Qui
Comedy Store Sunset Boulevard