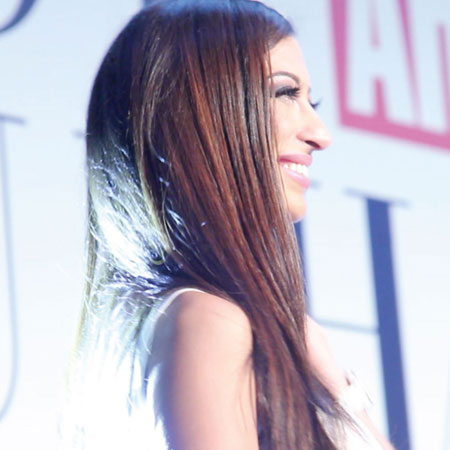 International Event Host
Internationally recognised presenter of large scale corporate events
Presented the prestigious televised World Travel Awards 2013
High profile clients include Samsung, Rolls Royce, Toyota, Zee TV
Interviewed iconic personalities incl Richard Branson & Gerard Butler
Based in Dubai & available to perform at events worldwide
International Event Host PHOTOS
Shereen is formally trained in TV & Live Presenting from 'The Sydney Academy Film & Television' (Australia) and the 'New York Film Academy' (Los Angeles).
Shereen's expertise, professionalism, and affable personality are only a few of the traits that have made her the No. 1 choice in the UAE & Middle East region.
Renowned businesses, organizations, brands and events planners have loyally made Shereen their preferred choice for various engagements. Shereen's versatility enables her to deliver on both lifestyle and business genres. Combined with her ever expanding reach on an international scale, and exceptional networking skills, Shereen brings leverage to any potential client.
Shereen has hosted many prestigious international and local events for Ahlan! Grazia, Harpers Bazaar & Cosmopolitan magazines, not to mention internationally renowned corporate giants such as Dove, Roger Dubuis, Samsung, Rolls Royce, Toyota and recently the internationally recognized 'World Travel Awards' [In Dubai & The Maldives], gaining rave reviews and feedback from clients.
With strong business acumen and knowledge from her own business experience, Shereen has worked in Australia, London, Dubai, Abu Dhabi, Hong Kong & The Maldives commanding a substantial audience with her energy, passion and enthusiasm. Established names such as Gerard Butler, Sir Richard Branson, Fabio Cannavaro, Garry Marshall and several members of the Emirati Royal Family have all been interviewed by Shereen on and off camera, adding to her reputation of versatility and professionalism in dealing with different personalities.
Proficient in presenting both lifestyle and business engagements, such as, product launches, press conferences, seminars, fashion shows and her personal favorite being Red Carpet Award Ceremonies.