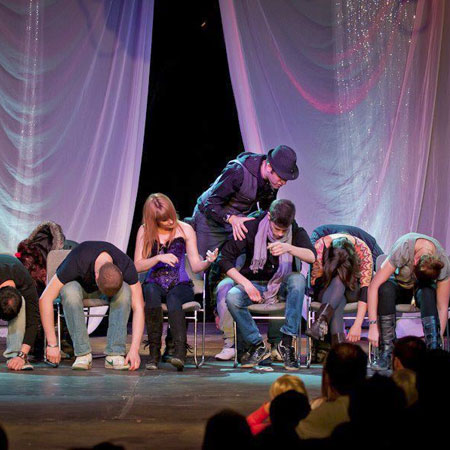 International Hypnotist
Astonished thousands worldwide with his hypnosis, mentalism & magic shows
Witness the hilarious moments when your guests become hypnotised!
Reached the final of TV show Canada's Got Talent
3rd best act of the largest comedy festival in the world – Just For Laughs
Based in Canada and available to perform at events worldwide
International Hypnotist PHOTOS
Canada's Got Talent Finalist and 3rd best act of the largest comedy festival in the world – Just For Laughs 2012! Currently, nominated for the Canadian Magician of the Year 2012, he has been featured on the Discovery Channel for his extremely entertaining personality and hypnosis demonstrations. 
As a result, he was recruited by an LA production company for a reality TV show currently in the works. The hypnotist performances have been deemed nothing short of amazing by the press and his audiences have been overwhelmingly impressed with his highly charismatic entertainment style. This Just For Laughs entertainer has been performing hypnosis, mentalism and magic shows professionally for many years. The demand for his shows continues to grow exponentially and stretches across America. In addition to performing across Canada in major cities such as Montreal, Toron­to, Quebec City, Moncton, Halifax and Ottawa he has also travelled internationally for his shows
The hypnotist has performed in Los Angeles, Las Vegas, New York, Philadelphia, Grand Rapids, Washington D.C., Cancun, Punta Cana as well as at various Club Med locations and has consistently astonished thousands of people. With a degree in Social Psychology, he has successfully mastered social inter­action which has allowed him to reach the most exciting and captivating levels of social magic and mentalism. He has garnered riveting reviews from Discovery Channel, History, A&E, Canada's Got Talent, CTV, CBC, Glob­al TV and many more have given him amazing praise distinguishing him from all other entertainers. He has also performed for the likes of Guy Laliberté (Cirque du Soleil), Dane Cook, Neil Patrick Harris and Penn & Teller to name a few.
Shows:
Close-up Magic/Mentalism (1hr-2hrs)
Stage Magic/Mentalism (20min-1hr30min)
Stage Hypnosis (45min-2hrs) *Specific Conditions
The Discovery Channel
CBC
And many more...
Canada's Got Talent
Global TV
CTV
The Being Frank TV Show
" You are unreal! "

Tania Borealis
" So great to meet you! What a fabulous experience for our psy students. "

Vanessa Amar
" Is was great being a part of the show at Brookdale! Thanks for coming! I did surly feel relaxed the entire rest of the day. "

SJ Sheare