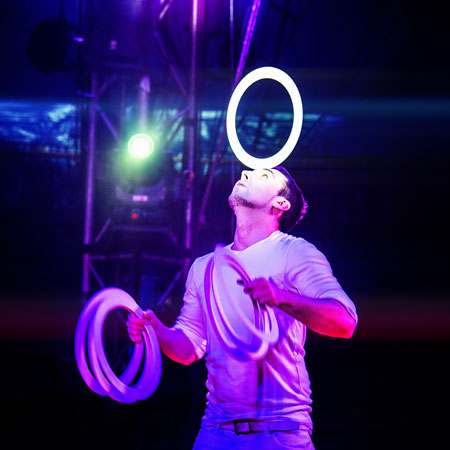 International Juggling Show
A multi award-winning juggler who has toured the world with his shows
Capable of the highest technical juggling tricks in the business
Well known for his fresh and exciting performances
Incorporates new ideas and techniques into every show
Based in Budapest and available to perform at events worldwide
International Juggling Show PHOTOS
Laido is a master juggler, capable of the highest technical juggling tricks in the business. Having been born into a family of circus performers, he began performing on stage at the tender age of 6 and gained his professional experience whilst working in Russia as a guest artist at the Moscow Nikulin Circus.
Having toured the world as a multi award-winning juggler, Laido is known for his fresh and exciting performances, incorporating new ideas and techniques into every show. His signature tricks include being able to juggle 7 rings whilst head bouncing and juggling an impressive 11 rings at once.
Available to hire for corporate events, private parties and exhibitions, International Juggler Laido, is an exciting and inspiring performer.