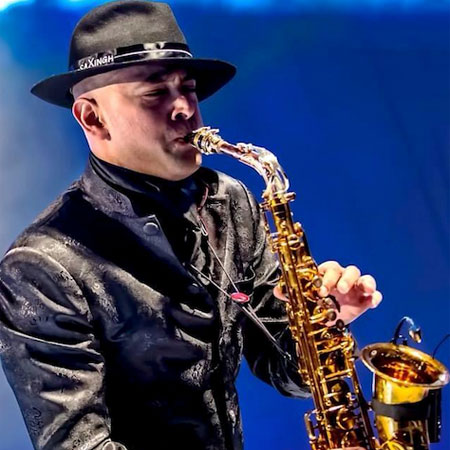 International Saxophonist
Versatile & energetic saxophonist will have audiences reeling in wonder
Extensive repertoire of over 100 songs & numerous genres
Toured the world & played with likes of Hed Kandi & Ministry of Sound
Can perform on stage or mix in with the crowd & take requests
Based in Edinburgh & available for events around the world
International Saxophonist PHOTOS
This act's unique sax-playing abilities, combined with his captivating showmanship, will have your audience reeling in nothing short of amazement. Whether it's playing alongside the world's finest DJ-ing talent such as Ministry of Sound and Hed Kandi or free styling from within the crowd, he injects passion into every performance to deliver show-stopping live sax.
By blurring the lines between the DJ booth and the dance floor, this saxophonist has the ability to entrance the listener, blending seamlessly into the original recording to enhance the musical experience. He doesn't just play over the tunes; he plays with the tunes to transport his audience into a musical utopia. You'll find him grooving on the stage as much as sliding shoulder-to-shoulder, sax in hand, through the dance-floor.
He boasts an extensive repertoire of over 100 songs and a wide range of genres including Motown, Bollywood and Ibiza Chill. When it comes to collaborations he can be booked to play alongside all the major Asian weddings DJs including Diamond Cut, Calibre and Kudos. He can also perform as a stand-alone outfit.
Whatever event you have in mind, this saxophonist add that touch of class & sophistication to make it an unforgettable experience.