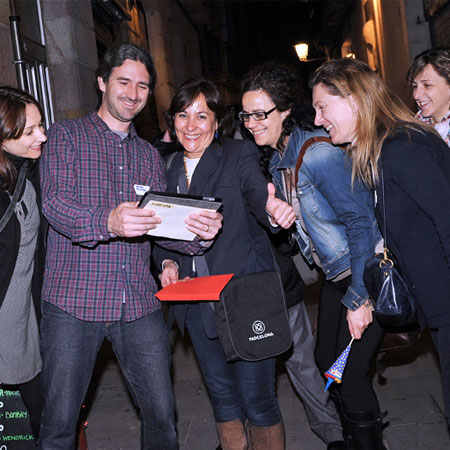 iPad Team Building Game
Innovative iPad team building activity with 100% customisable content
Easily design, create & manage your geolocated team building activities
Promotes strategy, leadership, teamwork & reinforces company identity
Can be used for an iPad rally, team treasure hunt & scavenger hunt
Book our iPad team building game for events in Barcelona, Europe & worldwide
Hire our iPad team building game in Barcelona for a high-tech original activity that will engage your colleagues.
If you're looking for an innovative geolocated team activity with an intuitive interface that will promote fun and offer participants a valuable experience, book our tablet team activity! With 100% customisable content, clients can easily design, create and manage any activity played on the iPad and create a custom iPad rally, digital treasure hunt or scavenger hunt with questions, pictures and videos personal to your company. Even the maps can be customised to suit your theme.
This powerful, solid and really easy team building app allows GPS control, has integrated WhatsApp for quick communication between teams and allows interaction with sending jokes and tricks - all in the name of healthy competitiveness - as well as QR codes for secret locations, Apple iBeacons and augmented reality.
Encouraging participants to communicate engage, lead and follow our team building game promotes the development of strategy, leadership and teamwork as each team is challenged to meet the unexpected, find hidden places, and decipher clues.
A great way to reinforce the identity of your company through a host of interactive games, book our iPad team building game for your company in Barcelona, Europe or any where in the world!