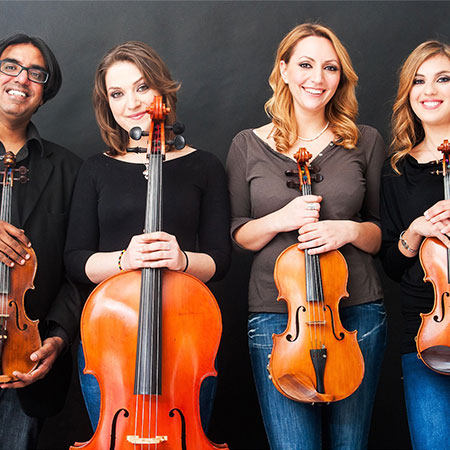 Italian String Quartet
Sophisticated event and wedding string quartet sets the perfect tone for your special occasion
Extensive repertoire includes classics such as 'Ave Maria' and also film soundtracks, rock and pop classics and jazz and Neapolitan music
Can fully customise their set list to meet your needs and bring a touch of elegance to any event
Strings background music is popular for ceremonies, receptions, corporate evenings, private parties, etc.
This Italian String Quartet is based in Rome and available for bookings across Italy and overseas
Italian String Quartet PHOTOS
Make your big day extra special by booking this Italian String Quartet, a passionate group of musicians with plenty of experience creating the perfect atmosphere for weddings, ceremonies and receptions.
With a wide repertoire that covers classics such as 'Ave Maria', this versatile event and wedding string quartet can also play film soundtracks, jazz, Neapolitan music and also rock and pop classics such as 'Yesterday' by the Beatles or 'Smooth Criminal' by Michael Jackson.
Happy to customise their set list to suit your requirements, our artists will adapt their set list to your needs. Whether you need music to walk down the aisle or just strings background music to create a relaxing atmosphere at your reception, our string quartet can make it happen for you.
Consisting of two violins, one viola and one cello, this sophisticated string quartet is the live music entertainment option you've been looking for your big day. Dressed in all black formal attire, our live string musicians add an elegant touch to your celebration.
Whatever the occasion, our live string musicians are guaranteed to set the perfect tone for your event through music! The perfect live music entertainment option for ceremonies, receptions, corporate evenings, private parties, and many more! Rome-based, this event and wedding string quarter is available for performances across Italy and overseas.
At Scarlett Entertainment we pride ourselves on providing a variety of live music entertainment options for events in Rome, Italy and all over the world.
Book this Italian String Quartet by contacting us today and asking to speak to one of our Entertainment Co-ordinators. They will be delighted to answer all the questions you may have about these live string musicians and assist you with your booking.
Bach: Viviner's Badinerie
Beethoven: Hymn to Joy
Boccheri Ni: Famous Minuetto
Brahms:
Brahms: Dansa Hungarian N ° 1 and 5
Dvorak: Humoresque
Haendel: Whater Music
Mascagni: Cavalleria Rusticana
Monti . Cardena
Puccini: O My Dear Babbino
Satie: Gymnopedie
Schumann: Traumerei
Spring
Tchaikowsky Minuet: Waltz of Flowers
Tchaikowsky: Swan Lake
Verdi: Brindisi
Verdi: the Woman is Mobile
Film Soundtracks
Amarcord
Life is beautiful
Nuovo Cinema Paradiso
Once upon a time in America
Once upon a time the West
Romeo and Juliet
The Godfather
The Leopard
The Pink Panther
The Postman
The legend of the pianist on the Ocean
The mission
Tango
Adios Nonino
Escualo
La Cucaracha
La Cumparcita
Libertango
Oblivion
Por Una Cabeza
Classical Music
Neapolitan
Back to Surriento
Core Ngrato
Funiculì Funiculà
O Sole Mio
Reginella
U Surdato Nnammurato
Te Vurria Vasà
Jazz
I Got Rithm
Somewere over the Raimbow
Summertime
The Easy Winners
The Entertainer
The Man I Love
Pop
Michelle
Smooth Criminal
With You I Will Leave
Yesterday
And many more...
Neapolitan