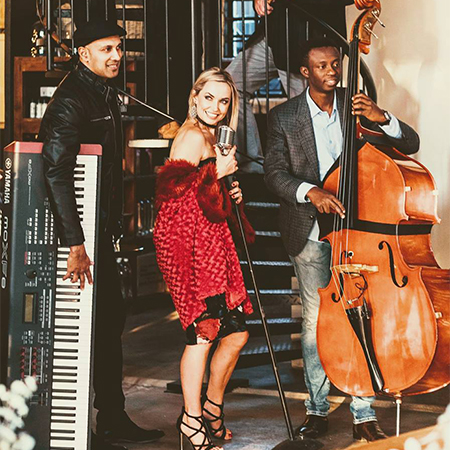 Jazz Band Johannesburg
Female fronted jazz and funky band set the perfect tone for your special occasion with jazz background music
Trio delivers on a selection of swinging standards, funky acid jazz grooves, rhythmic Latin numbers, sultry ballads and smooth á la mode favourites
The perfect musical touch to a high-end cocktail party, executive networking gathering, ambient dinner set, or up-close-and-personal soiree
Able to adapt to different performance spaces both indoors and outdoors and perform for small and large crowds
Happy to fully customise their vast repertoire to suit your requirements and adapt their style to match the tone of your event
Jazz Band Johannesburg PHOTOS
The definitive crossover jazz band for any hip, up-market corporate event or celebration that requires musical excellence, a finishing touch of chic sophistication and a generous dose of va va voom!
Jazz, Swing and Retro-Funk Sounds
For those who prefer contemporary adult sounds, the band synergizes elements of tradition with avant-garde, blending and groove shifting between swinging standards, acid jazz, rhythmic Latin, retro-funk and smooth á la mode favourites.
Whether as a three-piece of Wendy Allen Twyford on vocals with Graeme Currie on double bass and John Fresk on piano, or with the inclusion of drum kit, guitar, saxophone, trumpet and/or trombone - this stylish outfit enhances an atmosphere of class for a memorable occasion...allowing their unique energetic blend of music to perfectly synchronize to the tone of any gathering.
Music for Cocktail Parties, Sophisticated Soirees and More!
If you wish to add a splash of panache while your guests sip sundowners to the sultry sounds of a cocktail set or create a passionate soundscape to get your party pulsing on the dance floor, then this Johannesburg-based jazz band are for you!
The perfect musical finishing touch to a high-end cocktail party, executive networking gathering, ambient dinner set, or up-close-and-personal soiree, our jazz trio is guaranteed to deliver a memorable performance that people talk about for years to come. Able to adapt both their repertoire and style to match the tone of your event, our musicians will ensure your special occasion is unforgettable for everyone. 
Get in Touch, Make an Enquiry
Are you interested in booking this Jazz Band from Johannesburg? Then don't hesitate to get in touch with us today and make an enquiry!
All the things you are
Almost like being in love
Ain't Misbehavin'
April in Paris
Autumn Leaves
Besame Mucho
Black Coffee
Black Magic Woman
Boy from Ipanema
Call me
Cantaloop
Can't take my eyes off of you
Chameleon
Cherokee
Closer to you - Original
Copacabana
Do da boogaloo
Do nothin' till you hear from me
Don't get around much anymore
End of love
Feeling Good
Fever
Fifty ways to leave your Lover
For You - Original
Fly away - Original
Hit the road Jack
I get a kick out of you
I only have eyes for you
Is you is or is you ain't my baby
It had to be you
Just the two of us
Killer Joe
Let's Fall in Love
Lola
Lost Mind
Agua be Beber
Love me like a man
Love me or leave me
Masquenada
Memphis Underground
Misty
Moondance
My baby just cares for me
My Funny Valentine
Nature Boy
Of all the things
On the Beach
One note samba
Oye como va
Papa was a rolling stone
Peel me a grape
Pickin' up the pieces
Play that funky music
Popsicle Toes
Put it where you want it
Rio Déjà Nero Blue
Route 66
Spice up your life
Straighten up and fly right
Summertime
Summer Sun
Sunny
Sunnyside of the street
Sway
The Gentle Rain
The look of love
They can't take that away from me
This Masquerade
Watermelon Man
Whose side are you on?
Love for sale
DUTCH WORLD CUP SOCCER TEAM 2010 Private concert
DISCOVERY Top Life Service Awards Dinner 2010;
BMW INTERNATIONAL Golf Tournament Gala Dinner 2010
INVESTEC Client Dinner 2009
TRACKER Launch of New Headquarters 2009; Gala Dinner 2007
ABSA Gala Awards Evening 2009
SASOL Gala & Awards Dinner 2008 & 2007
ZYCKO Year-end Function 2008 2006 & 2004
RMB Merger Celebration 2008
GENERAL MOTORS National launch of Cadillac 2007; Launch 2006; Opel Launch 2005
AB Axcil Launch 2006; Pilsner Urquell Launch 2006
HUNT LASCARIS 2005 Year End Bash
ELLE Paris Fashion Banquet 2005
RENAULT Megane Launch 2004
JOHNNY WALKER Malt Auction 2003
NAMIBIAN BREWERIES Launch 2002
FAMOUS BRANDS Gala Awards 2011 & 2007
VODACOM CEO Awards Ceremony 2010 2007 & 2003;
ROBERTSON WINE VALLEY Festival 2010
BIDVEST Gala Dinner 2009 & 2007; Graduation Ceremony 2004
SCHERING PLOUGH International Conference 2009; Awards Gala Dinner 2009
MERCEDES "Blue Efficiency" launch 2009
WESBANK Opening of new headquarter building 2008;
STEINHOFF Showroom launch 2008 & 2006;
TOYOTA Annual Business Services Conference 2008
FNB Wine Tasting Event 2007; CEO Retirement Dinner 2004
ACSA Gala Awards 2006
MTN VIP 2005 Year End Cocktail Party
PRIME-MEDIA Gala Awards 2005
LILLY & BOERINGHER Launch 2004
EAT OUT Restaurant Awards 2003
AUTO AFRICA Expo launch 2002
FIFA World Cup Soccer Congress Opening Ceremony 2010