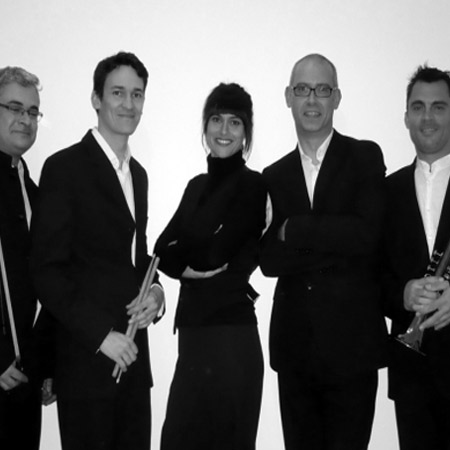 Jazz Band Live
Available as a 2-5 piece act to suit the requirements of your event
Perfect for weddings, cocktail parties and corporate events!
Performing songs from Frank Sinatra, Ray Charles, Miles Davis
Up to 5 talented musicians playing the piano, bass, drums, sax and vocals
Based in the Poitou - Charentes area of France
This French based Swing Jazz band specialises in providing the ideal entertainment for your event. They are available as a duo or trio for smaller and more private functions, and quartet or quintet for larger more spacious events.
The Lead female vocalist has performed in jazz clubs across Paris and is perfect for bringing a touch of elegance, joy and swing to your event!
To find out more about how to book get in contact with our helpful team of Entertainment Experts.
Angel eyes - Herb Jeffries
All blues - Miles Davis
All of me - Frank Sinatra
All the things you are - Frank Sinatra
Beautiful love - Wayne King Orchestra
Billie's Bounce - Charlie Parker
Blue Moon - Billie Holiday
But not for me - Ginger Rogers
Cry me a river - Ella Fitzgerald
Dolphin Dance - Herbie Hancock
Fly Me to the Moon - Bart Howard
Georgia - Ray Charles
Green Dolphin Street - Miles Davis
Hassan's Dream - Andy Allen
Have You Met Miss Jones - Frank Sinatra
Here's that rainy day - Frank Sinatra
If I Should Loose you - Aretha Franklin
In your own sweet way - Wes Montgomery
It Could Happen to You - Jo Stafford
A child is born - Thad Jones
On the sunny side of the street - Ted Lewis
On a Clear Day - Barbra Streisand
Round Midnight - Thelonious Monk
Scrapple From The Apple - Charlie Parker
Sister Sadie - Horace Silver
Some day my Prince Will Come - Wynton Kelly
So what - Miles Davis
Stella by starlight - Frank Sinatra
Summertime - George Gershwin
Sweet Georgia Brown - Ben Bernie
Take Five - The Dave Brubeck Quartet
Tenor Madness - Sonny Rollins
The days of wine and roses - Andy Williams
There Will Never Be Another You - Nat Cole King
Time after time - Frank Sinatra
Whisper not - Ella Fitzgerald
You do not know what love is - Carol Bruce
Now's the time - Charlie Parker