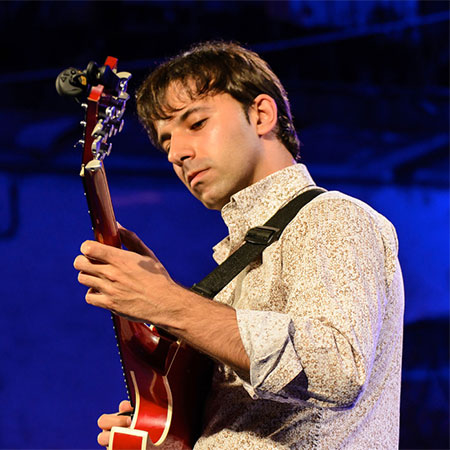 Jazz Guitarist New York
Multi-award winning guitar player who can perform both as a leader and as a sideman
Can carry out live jazz performances alongside a four-piece band of renowned jazz musicians
Have recorded music with big names in jazz such as Dave Liebman, Antonio Farao and Rick Stone
Wide repertoire includes popular jazz and swing hits and also original songs by artist
Book this Jazz Guitarist for events in New York and around the world
Jazz Guitarist New York PHOTOS
Experience, style and class define this Jazz Guitarist based in New York. Our talented guitar player offer live jazz performances usually accompanied by a four-piece band of renowned jazz musicians. He's a multi-award winning guitarist that will make audiences vibrate with his electric guitar riffs and their energy-filled shows.
This Jazz Guitarist currently established in New York is originally from Italy, where he developed a great part of his professional career. Our multi-award winning guitarist recently moved to the US in search of new challenges and where he's combining his career as a live musician with his work a music educator.
Backed by more than 15 years of experience, this talented guitar player has performed at jazz festivals and venues in the US and all across Europe. His demanded live jazz performances have taken him to countries such as Italy, France, Spain, Germany, Switzerland, England, Scotland, Russia and Croatia.
Qualified music critics have praised him for his work as both a leader and a sideman. During his long musical career, he can boast of having recorded with some of the biggest names in jazz such as Dave Liebman, Antonio Farao and Rick Stone, among others.
Our talented guitar player's style is a combination of jazz in its pure state embracing classical, folk and even Latin sounds. He and his band could play some world-famous jazz songs during their engaging live jazz performances. And the best of all: they could also play their own original songs and any song upon request!
These are happy times for jazz lovers. Make sure you delight them at your upcoming festival or event with this phenomenal Jazz Guitarist, both in New York and anywhere around the world.
Contact our team of entertainment specialists and request further details on our Jazz Guitarist New York.
A Foggy Day
All of Me
All of You
All the Things You Are
Amazing Graze
Ancora
Ancora
At Least
Autumn Leaves
Baciami Piccina
Beautiful Love
Bemsha Swing
Black Narcissus
Body and Soul
But Beautiful
But Not for Me
Ceora
Chega De Saudade
Come Rain or Come Shine
Con Alma
Corcovado
Desaginafo
Don't Blame Me
Don't You Worry About a Thing
Dream a Little Dream
Every Breath You Take
Everything Happens to Me
Fly Me to the Moon
Four
Fragile
Georgia on My Mind
Godfather Theme
Have You Met Miss Jones
How Deep is the Ocean
How High the Moon
How Insensitive
I Didn't Know What Time It Was
I Got Rhythm
I Love You
I Remember Clifford
I'll Be Seeing You
I'll Remember April
I'm Beguiling to See the Light
I've Got a World on a String
I've Got You Under My Skin
In a Sentimental Mood
In a Walked Bud
Isn't It Romantic
Isn't She Lovely
It Could Happen to You
It Don't Mean a Thing
It's All Right with Me
It's Only a Paper Moon
Just a Gigoló
Just One of Those Things
Just the Way You Are
La Vita è Bella
Laura
Let It Snow
Lines for Lyons
Lover Man
Lullaby of Birdland
Mack the Knife
Mas Que Nada
A Felicidade
Minor Swing
Misty
Moon River
My Favourite Things
My Foolish Heart
My Funny Valentine
My Little Suede Shoes
My Old Flame
My One and Only Love
My Romance
My Way
Nature Boy
New York New York
Night and Day
Nobody else but Me
Now's the Time
Ok a Clear Day
On a Clear Day
On the Sunnyside of the Street
Once I Loved
Our Love is Here to Stay
Overjoyed
Parlami D'amore Mariù
Perdido
Prelude to a Kiss
Quando Quando
Recordame
Route 66
S'wonderful
Skylark
Solar
Solitude
Somewhere over the Rainbow
St Thomas
Stella by Starlight
Stoping at the Savoy
Strangers in the Night
Summertime
Sway
Take 5
Tate the a Train
That's All
The Girls from Ipanema
The More I See You
There is No Greater Love
Triste
What Are You Doing the Rest of Your Life
Meditation
" He is a great jazz guitarist and composer from Italy. He is a player that has the gift and touch of the real cats, like John Coltrane, Charlie Parker, Bill Evans, Pat Martino... "

The Sound Guitar Magazine – Jason Macedo
" His fame has reached beyond his national borders, as he has recently toured the Europe and received the endorsement of an important instrument firm. His sonority, sharp and aggressive, can be compared to that of John Scofield, and his phrasing is an intimate synthesis of the contemporary evolutions of jazz guitar "

Archivio Chitarristi Jazz – Giovanni Monteforte
" With his relentless passion, he has already earned some prestigious honors. His style is marked by a good balance between technique and melodic awareness, his touch is confident and expressive "

Axe – Gaetano Valli
" He has thrown open the doors of the process to invite you the listener in to experience the entire experience. My hat's off to him in a big way. Along with his openness, his "no frills" approach greatly appeals to me "

Detroit Jazz Magazine – Matt Ward
" One of the greatest jazz guitarists and composers. A truly great musician with big ears and a big heart "

Andy Sheppard – saxophonist, composer, arranger