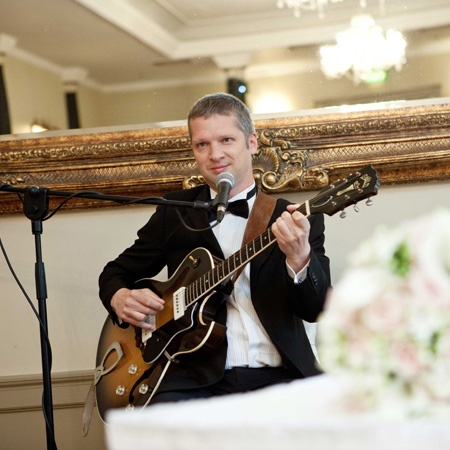 Jazz Singer and Guitarist
Smooth & melodic jazz vocals and guitar based in Scotland
Performs a wide repertoire of classic jazz and pop standards
Includes 'Scat' vocalisations for an authentic jazz sound
Played at many of Scotland's top hotels & for many satisfied customers
Can perform as part of an established jazz trio/quartet
Jazz Singer and Guitarist VIDEOS
The uniqueness of Peter's performance is his ability to play the walking bass and harmonies accompaniment with his guitar on top of singing and scat improvising.
Having studied classical music in his native Hungary for many years Peter abandoned Bartok for Beatles on leaving University and formed his own band playing his own music.
A growing interest in Jazz prompted the development of his current style which is an unusual combination of walking bass and harmonies on guitar while singing lyrics or scat ideal music to make your special day that bit more special.
Your Event
Peter sings classic jazz and pop standards in a simple style accompanying him on a much loved 50 year old Guilt T-100 guitar. He is always happy to learn new songs for you (at no fee) to add to his repertoire and will do all he can to ensure that his music matches your mood.
With the latest amplification system he can provide music for anything from an intimate party to a big celebration in a marquee.
Peter has played at many venues in Scotland including Pittordrie House The Hilton- Craigendarroch Hotel and the Hilton-Treetop Hotel. Peter has also played in Michael Parkinson's gastro pub the Royal Oak Paley Street in Berkshire.
Whatever the occasion let his music make your day even more memorable.
" Peter performed at our wedding on 13th June 2008 at the Udny Arms Newburgh. Peter was excellent. He met with us prior to the wedding and although we had decided we wanted a couple of tunes that he was not familiar with this did not pose a problem to him at all. He learned them for us and we were absolutely delighted that we got exactly what we wanted. Both his musical and vocal talent were admired by everyone. I would thoroughly recommend Peter to anyone who wants a professional sound at their wedding. "

Fiona and Colin Wilson
" Peter is a "MUSA Regular" and a firm favourite with the customers. His brand of mellow jazz guitar and vocals perfectly matches the ambience of MUSA Art and Music Cafe. "

Sheila StevensonMusa Art Café Aberdeen
" Peter has played on several occasions at Forbes of Kingennie. His music is always well received and Peter himself is very personable. We would have no hesitation in recommending him and his classy laid back music style. "

Brian ParkForbes of Kingennie