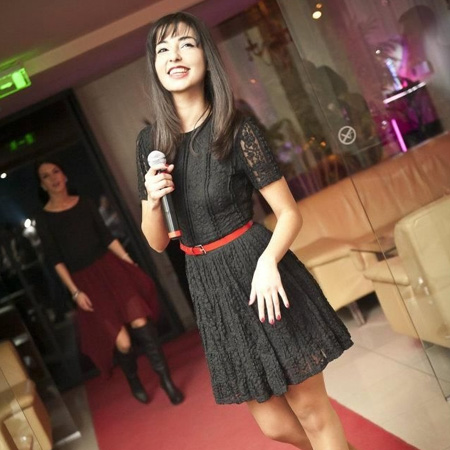 Jazz Singer Iulia
International jazz singer with a versatile range for a variety of genre
Performs jazz, Broadway and Hollywood hits, pop, pop-rock, and disco
Perfect for corporate events, hotel lounge entertainment, cruise ships
Previous clients include Shangrila Hotel, Sands Hotel, Music Room Club
Based in Romania & available to perform at events worldwide
International Jazz Singer Iulia is a versatile talent that can sing a wide variety of songs with ease. From jazz to pop, broadway to disco, Iulia's powerful voice matched by her angelic face will surely captivate even the most demanding of international audiences.
Born to a musician father, Iulia took formal voice training in one of the respected art schools in Romania. She fell in love with singing at an early age and at 18, she was already being paid to sing in famous bars and clubs - either solo or with a band. Since then, she has become a staple of jazz bars and concerts in and around Romania, performing broadway hit songs and other famous jazz pieces.
Iulia music isn't limited to just jazz. She possesses a versatile range that allows her to sing more pitch-demanding songs with relative ease, making her a perfect entertainer for a wide variety of guests, catering to their different musical tastes. Her shows are very entertaining, and her music - soothing and enthralling at the same time.
A testament to Jazz Singer Iulia's talent is the fact that she has travelled to different countries to sing in famous hotels and restaurants, festivals, open air concerts, corporate events, clubs, and luxury cruises. With Jazz Singer Iulia aboard your entertainment schedule, you will never be disappointed!
Sands Hotel Abu Dhabi
Cruise Ship Germany
Jazz Festivals Romania
International Jazz Festival Contest Romania
Hotel Island Shangrila Hong Kong
Cruise Ship Portugal
Seaside Resort Romania
Young Jazz Talent Festival Estonia
Villete Agency Romania
Music Room Club Dubai