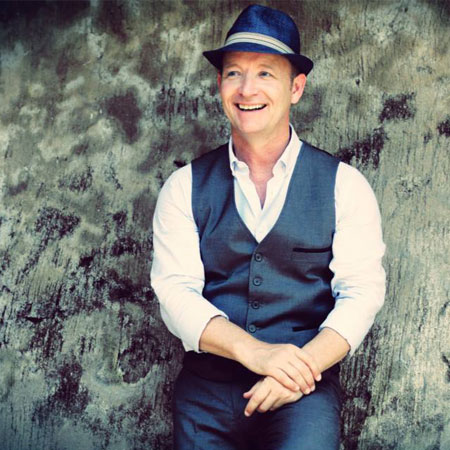 Jazz Singer James
Bringing an old school jazz sound to your event, our talented performer is a true showman
Our talented jazz singer takes inspiration from famous crooners like Sinatra, Bublé & King Cole
Offering a range of lineups, jazz vocalist James can be accompanied by a full band
Previous performances include Singapore International Jazz Festival, Paris Cat Jazz Club & The Jazz Cafe
Based in Perth & available to perform at events worldwide
One of Australia's leading entertainers, Jazz Singer James is a true gentleman and polished performer. Available from Scarlett Entertainment to perform in Australia, Asia and worldwide, our charming male vocalist takes inspiriting from swing greats like Frank Sinatra, Michael Bublé and Nat King Cole. 
Priding himself on his ability to set audiences at ease whatever the venue, our singer has performed in a wide variety of venues, from tiny jazz clubs to huge concert halls. Having written and produced some of the most celebrated touring productions in Australia including a musical narrative of Nat King Cole's life and a 1920s Great Gatsby inspired show, our gifted showman knows every aspect of the entertainment industry like the back of his hand.
Offering a range of lineups for clients to choose from, you can decide between:
James accompanied by Keyboard or Guitar & Acoustic Bass
James accompanied by Keyboard or Guitar, Acoustic Bass & Drums
James accompanied by Keyboard or Guitar & Acoustic Bass, Drums & Saxophone
From supporting Ray Charles to wowing crowds at Singapore International Jazz Festival, our experienced jazz vocalist knows how to keep audiences hanging from his every word. Offering personalised sets for corporate events, private parties, wedding receptions and galas, speak to our expert team at Scarlett Entertainment today for more information about hiring the talented Jazz Singer James to perform at your event.
Top Tip! 
Also able to be accompanied by a big band for large scale events, James can adapt to the specific requirements of your special occasion.
The Jazz Cafe (Bali)
The Arts Awards (Perth)
Ryoshi House of Jazz (Bali)
& many more
Singapore International Jazz Festival
The Commune (Melbourne)
The Jazz Club of WA (Perth)
Ellington Jazz Club (perth)
Paris Cat Jazz Club (Melbourne)
" In the world of showbiz, where singers are a dollar a dozen, [Jazz Singer James] is one of those very rare performers whose hallmark of star quality is instantly self-evident and both elevates and distinguishes him from the crowd "

The Scotsman (UK)
" [Jazz Singer James] invariably gives an exciting and perceptive performance crafted from a unique fusion of intuitive talent and technical mastery. So it is easy to see why he is so much in demand… from Edinburgh to Hong Kong and from Dunoon to Down Under "

The Stage & Television Today (UK)