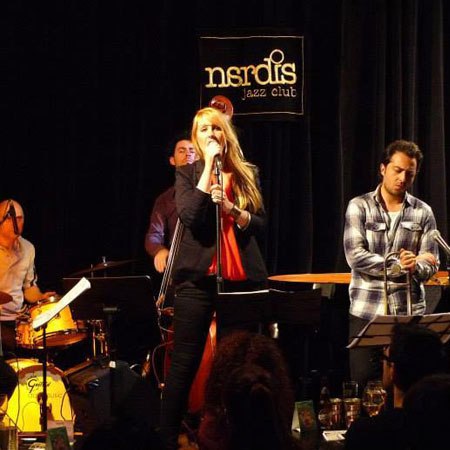 Jazz Singer Madrid
A dazzling Jazz vocalist, generating great expectations internationally
Her old-style voice carries rare emotional intensity in each song
She has a great dramatic ability and huge stage presence
Performs with the best Jazz pianists, bands and international musicians
Based in Madrid and available to perform at a events worldwide
Jazz Singer Madrid VIDEOS
Jazz Singer Madrid PHOTOS
Jazz Singer Noa is an outstanding vocalist, generating great expectations in the national and international Jazz world.
Noa reinvents great jazz standards, and flirts with boleros with her "exuberant and playful voice" she is full of talent, with a great dramatic ability and stage presence.
Her old-style voice is a true reflection of a rare emotional intensity that Jazz Singer Noa brings to each performance.
Having been noticed by three of the most famous jazz pianists within the national scene, (Pepe Rivero, Moses Sanchez and Luis Guerra), Noa collaborates with them, reinventing great jazz standards and producing an evocative collaboration with her warm and versatile voice.
She performs with the best pianists, Jazz bands, musical productions, with other national and international musicians, in radio adverts, for soundtracks and much more.
Noa has a dazzling voice, at the head of a new and splendid generation of jazz musicians.
" Noa, a wonderful voice! "

Almudena Cacho, Radio Euskadi
" Noa offers us her art in what is perhaps the hardest option for a vocalist, accompanied by just a piano. However, she shows her versatility through different and demanding songs. Pay attention to Noa… discover her talent "

Groove Planet
" Noa showcases her great technique and the versatility of her style. It could be said that it is when you reach the limit when you have to be brave and push forward or be defeated because you give up. Singer Noa decided to be brave. "

Jose Manuel PErez Rey - Distrito Jazz
" An exuberant and playful voice; feminine, full of talent, with a wide register and great dramatic ability, and with a charming and well-tuned playfulness that is truly captivating "

David Romero