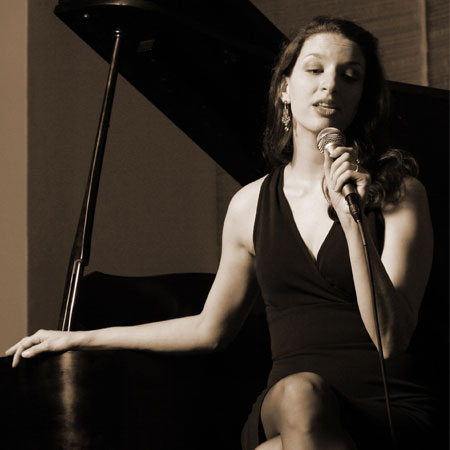 Jazz Singer Petra
A highly experienced & professional jazz function singer & solo vocalist
Female jazz vocalist creates a classy & sophisticated atmosphere
Sings from a vast repertoire of over 500 jazz standards & bossa novas
Can perform with a band of world class, top Chicago jazz musicians
Based in Chicago & available to perform at events worldwide
Our fabulous jazz singer based in Chicago is just what you've been looking for for your event! Highly experienced, professional and a regular jazz performer at some of Chicago's most prominent venues, Petra is a fantastic female jazz vocalist with a wealth of accolades to her name.
Book our jazz singer and create a classy and sophisticated atmosphere at your event. Inspired by the likes of Peggy Lee, Billie Holiday and Doris Day, our jazz function singer's performances showcase elegant vocals delivered in a straightforward style that reveals all the emotion behind each song. Her sincerity and originality is what immediately endears her to and connects her with her audience.
Performing as a solo female singer or alongside her jazz band comprised of some of Chicago's top jazz musicians, she sings from a vast repertoire of over 500 jazz standards, bossa novas, and pop hits from the 1920s to 50s. Line-up options for our brilliant jazz singer include:
Duo – Vocals with a guitar or piano
Trio - Adding an upright bass or a horn to the duo
Quartet - Adding drums or a horn to the trio
Quintet - Vocals, guitar or piano, upright bass, drums, and horn
Sextet - Vocals, guitar or piano, upright bass, drums, with two horns
Septet - Vocals, guitar or piano, upright bass, drums, with 3 horns (trumpet, trombone, and clarinet)
Top Tip
Want to ensure that all your favourite jazz classics appear in her performance? Our talented jazz artist can create a customized set list compiled from your song requests, performed in 45 to 90 minute sets. Talk to one of our entertainment coordinators to find out more.
Aston Martin
National Restaurant Association
Kraft Heinz Company
Google
" Her voice is at once alluring and robust...her tone alternates between delicate playfulness and declarative strength, perfectly suiting the hot jazz... "

Jack Huntley, All About Jazz
" You and your band really do have something unique. Your musicians are so joyful. They elicit sheer joy in the audience, as well, and for a time, we all forget our problems. You and your band have the ability to create a group experience which is so rare these days. It is almost like a communion and is very special. It seems like there is an egolessness in your band, that everyone is rooting for everyone else on your team to do their best. I usually only see kind of team spirit when there is great leadership present. "

Christina Abiera, fan
" Just wanted you to know that your performance on Friday was AMAZING!! FLAWLESS!! Simply well done. First performance where all of my emotions were touched. You really do make music come alive. BEAUTIFUL voice!! "

Ken Harvey, fan
" She has a light, gorgeous and fairly delicate voice...a gift for melody... plenty of rhythmic confidence...naturalness when phrasing...overall intelligence makes understatement and subtlety virtues...personal involvement with a lyric "

Frank John Hadley, Downbeat Magazine