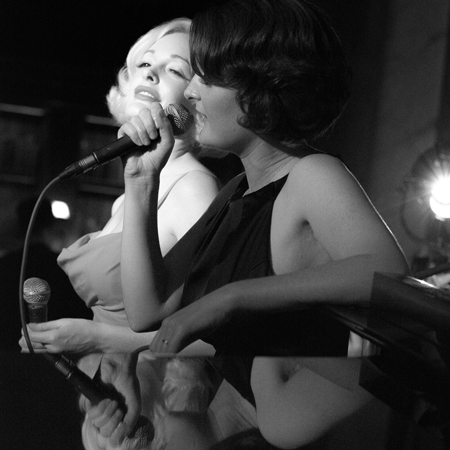 Jazzy Sister Act
Fantastic jazz trio will captivate any audience with their superb voices and glamorous performances
Unique swing band consists of two sisters singing and playing drums with a male vocalist and pianist for a stylish and smooth performance
Jazz sister singers capture the vintage glamour of Hollywood with their renditions of jazz standards from the 1920s, 1940s and 1960s
Fabulous swing band have performed all over the world including private events for Lewis Hamilton and Graham Norton
Sensational jazz band based in the UK and available worldwide
Book this fantastic jazz trio for a smooth and scintillating performance to liven up your event. Our glamorous jazz band is perfect for creating a warm and vibrant mood with their stylish performances and stunning vocal talents. This unique and talented swing band consists of two sisters on vocals and percussion and a male pianist and vocalist, creating an original and captivating sound with fabulous vocals and soft, lilting rhythms. Our superb jazz sister singers will enthral any audience with their sultry, seductive voices and fantastic selection of vintage jazz and swing numbers. Book our amazing jazz singers and band for a suave and elegant performance that will add a touch of class to any event.
Our fabulous jazz sister singers are the perfect choice for providing classy and enticing entertainment at parties, weddings, jazz clubs, hotels and cruise lines, and their stunning vocal talents and jazzy, captivated song arrangements will set the perfect relaxed and vibrant mood wherever they play.
This acclaimed jazz band have performed all over the world and earned acclaim for their polished performances and fantastic vintage jazz style. Previous clients of our superb jazz trio include prestigious venues like The Savoy, the Dorchester, Rosewood Hotels, and private parties for celebrities including Lewis Hamilton and Graham Norton.
Our swing band are perfect for bringing the glamour and sparkle of vintage Hollywood to events worldwide and their elegant, sophisticated performances of the iconic jazz standards of the 20s, 40s and 60s calls to mind the vintage charm of Emma Fitzgerald and Louis Armstrong. Our flexible jazz singers can perform as a stylish trio or with the additional of other talented musicians like swinging saxophone and trumpet for a more dynamic sound.
Scarlett Entertainment has a range of top class jazz and swing bands for events worldwide.
Contact our expert team to arrange booking.
" Fantastic "

OK Magazine