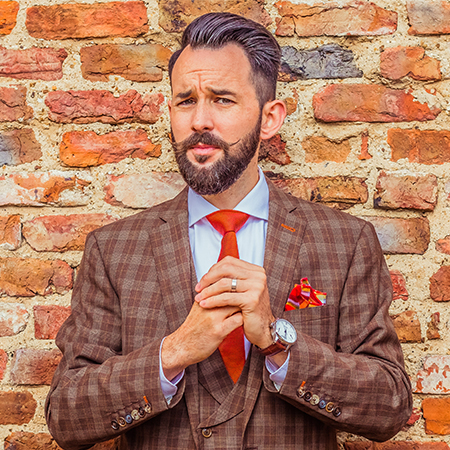 Jez Rose
Health and wellbeing speaker Jez Rose explores complicated topics in an accessible way with tremendous honesty, clarity, warmth and humour
Jez's uniquely entertaining, inspiring and informative style make him a firm favourite for organisations requiring a speaker with lasting impact
Founder of The Good Life Project developing guidance for organisations on the impact of nature on human health, well-being and behaviour
Jez has been invited to speak at conferences and events in more than 14 countries
Award-winning author and recipient of the Beverly Hills Book Award, his articles have appeared in The Daily Telegraph, CNN, etc.
In 2016, after more than a decade working with businesses worldwide as a behaviour insight advisor shaping culture, leadership and legacy, Jez Rose moved from his suburban 3-bed semi to a dilapidated 1850's farmhouse with agricultural land to test his theories on the cognitive and emotional impact of nature on human psychology and become a bee farmer.
Health and Wellbeing Keynote Speaker
Jez has spent his life learning about - and fascinated by - the impact nature has on human health, wellbeing and behaviour. He is passionate about how small changes to how we think and behave can produce extraordinary results. He is founder of the research program, The Good Life Project, supported by ambassadors the Soil Association; broadcaster Kate Humble and Gardener's World's Adam Frost. The Good Life Project develops practical, evidence-based guidance for organisations on the impact of nature on human health, well-being and behaviour.
Jez believes that nature is not being taken seriously enough by organisations seeking to enhance their culture, improve wellness and achieve extraordinary results. Jez's reputation as a speaker and broadcaster is built on his ability to explore complicated topics in an accessible way with tremendous honesty, clarity, warmth and humour. For over a decade he has been invited to speak at conferences and events in more than 14 countries;  his uniquely entertaining, inspiring and informative style making him a firm favourite for organisations requiring a keynote speaker with lasting impact.
A childhood in the English countryside; a Grandmother with a passion for unconventional gardening methods and a background in healthcare each made an impression on Jez that fuelled his desire to explore how human behaviour and wellbeing benefit from a greater connection with the natural world. Some of his fondest early memories are gardening with his Grandmother, being rewarded with bread and honey and today when designing and creating the gardens on his farm, he always remembers the benefits of tea and honey! The farm renovation – affectionately referred to as "Money Pit Farm" by Jez and his wife when they realised the extent of TLC the farm buildings and land needed – is ongoing and is home to chickens, Jez's two Labradors, Zeus and Marley, and more than half a million honeybees as part of Bees for Business, Jez's natural and innovative solution to corporate social responsibility, providing honeybee hives for adoption.
An award-winning author, he is a recipient of the Beverly Hills Book Award and his articles and features have appeared in titles as diverse as The Daily Telegraph, CNN, Liz Earle Wellbeing and BBC Countryfile magazines. His latest book, 'LEGACY: actions, consequences, value & purpose' is released in 2019 .He has been invited to speak at the world-renowned TEDx conferences in both the UK and USA, which can be watched online.
Speaking Topics
​​Jez presents real-world, efficacious strategies and solutions for thinking differently in order to positively influence cultures and behaviours to be conscious of the legacy we leave every day.
His unique content focuses on the much over-looked concept of legacy: considering the consequences of our actions and the decisions and choices we make. Whilst encouraging people to view legacy as current and to live your legacy, as opposed to something we leave behind; as a way to think differently about how we behave and the potential we have to create great things, at home and at work and critically as a transformational method for changing cultures.
Based on more than a decade working with some of the world's most iconic brands, using analogies, research and his own experience of the impact of nature to help bring his topics alive, his keynote presentations last from 60 minutes with every audience commenting on just how quickly the time went. 
Behaviour Change
Motivation
Communication
High Performing Cultures
Workplace wellbeing
Corporate Social Responsibility
Legacy
Leadership 
MC and Host 
Professional, articulate and experienced, Jez Rose is the first choice for industry conferences, high-profile awards ceremonies and company meetings, quite literally around the world. Supported by glowing testimonials, Jez Rose's reputation is built on his regular appearances on television and radio, his ability to provide pace and support your agenda, all delivered with warmth, clarity and humour.
Frequently invited to return as host and emcee with 10/10 audience feedback, his energetic and fun presenting style helps bring passion and life to a wide range of events and conferences, including facilitating discussion panels and workshops. From BBC1's Saturday Kitchen to the Discovery Channel and BBC radio, Jez offers a unique and much sought-after wealth of experience in live presenting including hundreds of hours with autocue/teleprompt, in-ear monitoring, scripted and improvised
Workshops
Jez has facilitated workshops for groups from 6 to 600 delegates, tailored to specific desired outcomes and needs. His workshops and innovative training sessions last from 90 minutes to full days.
Jez is well known for delivering immersive, interactive, engaging, fun and practical workshops for organisations worldwide. Whether on-site at your premises or off-site held at Jez's farm, a range of unique workshops help teams explore key topics and challenges:
Making Our Mark: Creating a Legacy with Corporate Social Responsibility
Speaking, Presenting and Facilitating Masterclass
Wild at Work: The Power of Nature for Culture and HR
Flip the Switch: Think Different, Get Different
The Business Secrets of Bees
Interested in Booking Jez? Get in Touch!
If you would like to check Jez's availability for your event, get in touch with us today and make an enquiry!