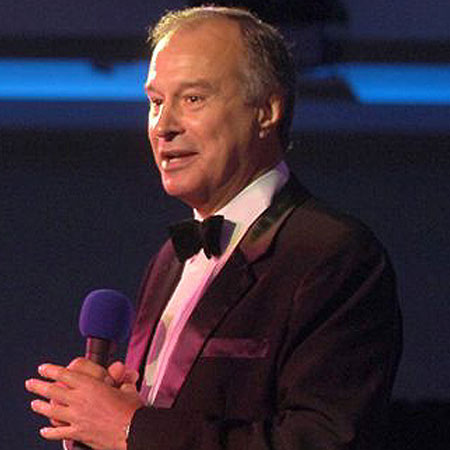 John Simonett
Highly Recommended After Dinner Speaker and Motivational Speaker
One of Britain's most entertaining and original speakers
Also available as an Awards Host, MC and Link Presenter
Entertaining and Funny: Offering a tailored presentation for your audience
Over 2,500 corporate performances
John Simonett is one of Britain's most entertaining and original speakers.  His speeches can be delivered purely as after-dinner entertainment, or alternatively as keynote "motivational humour" to energise and inspire conference delegates. He is also an engaging awards host, MC and link presenter.
He has appeared at many conferences and other corporate events, both in the U.K. and abroad. His clients include major multinational corporations, many of whom have used his services on a number of occasions. He has also appeared on television, both on BBC and ITV. He is a member of the CIPD, a Fellow of the Professional Speakers Association, and a Gold Star Member of the Inner Magic Circle.
A conference or Awards host with a difference - John has often acted as MC or Link Presenter to welcome delegates, introduce speakers, announce award winners and generally ensure the smooth running of an event. As an ex-teacher he is used to making sure those at the back pay attention! John has also chaired Q&A sessions and interviewed senior executives on stage as part of his hosting duties.
As an After Dinner Speaker John's main objective is to be funny, clean and entertaining, John specialises in the "tailored" presentation and likes to be able to make his remarks relevant to the group in question. His attention to detail, professionalism and experience - born out of over 2,500 performances on the corporate after-dinner circuit - provides organisers with the reassurance that what is often the most important aspect of an event is in "safe hands".
Contact one of our Entertainment Specalists who will be able to help you booking this or any other act.
A:     "At our annual dinner for 450 people the star was undoubtedly John who I had not heard speak before. He gave one of the most dazzling displays I have ever witnessed - fluency beyond belief humourous attention grabbing and holding and his ability to memorize dozens of names of people in the audience was astonishing!"
Mike Rainey The Insurance Institute of Southampton (writing to booking agent)
"A good speaker treats the audience as friends in his living room and that was just how it seemed last night.
This being your third appearance those of us who have 'experienced' you before thought we knew what to expect but I think it is right to say that you excelled and surpassed previous occasions. If I have any influence you will one day be invited to come down again  to provide us with more laughter intrigue and friendship."
Nigel Hook Secretary The Insurance Institute of Exeter
"I'm writing on behalf of the President to pass on his thanks and also to pass on the numerous accolades that I have received about your performance at our Heads of Faculties conference - you were truly terrific! Not only did you manage to strike exactly the right tone (admittedly not always easy with a large group of senior academics!) but the message whilst pertinent was delivered in an imaginative  and humorous manner - which made it all the more enjoyable."
Dr Jacqueline Henshaw Office of the President & Vice-Chancellor Manchester University
Q: What is his Delivery Style and Content like?
A:    "Let me first thank you for your great contribution to our Worldwide Managers Conference in Geneva - all feedback received from your five workshops on Staff Motivation has been excellent!  You added a lot of value and I am thankful that I was able to convince you to come and join us and to lead the workshops.
Daniel Dannenmann Vice President Global Training Quality Assurance & Standards Ramada International Hotels & Resorts
"Just a quick note to say thanks again for your speech to our Head Office staff in Rotterdam last Thursday.  It was a real pleasure to see you in action again and hitting all the right hot spots.  It was a very successful evening for EyeOpeners and also Logistics – clear evidence since that we knocked down some barriers!"
Peter Ward Director Europe P & O Nedlloyd Logistics
"I am still getting e-mails from people who enjoyed the evening with you - congratulations on the exceptional performance you gave!  We are looking forward to welcoming you to Zurich again for another Swiss Re event!"
Antoine Kissenpfennig Swiss Re Ruschlikon Zurich
"Thank you for another wonderful performance last night. It must have been a difficult audience with different nationalities who didn't all know each other. I thought you pitched it perfectly and my overseas colleagues all told me that their customers had a thoroughly enjoyable evening."
Nick Rawlings European Marketing Manager 3M Healthcare
"We are still bemused by your impeccable performance at our European conference dinner. A great many compliments were passes on two counts. Firstly the choice of speaker and secondly your consummate skill and personality in crossing the language barriers."
Jill Carr Secretary British Office and Stationey Supplies Federation
Q: Is he suitable for European or Non-English Speaking Audiences?
Ernst & Young
AGA
Reed
Isuzu
3M
Ramada
BBC
And many more...
Cadbury
Dunelm Mill
Scottish Power
Natwest
AXA
Triton
Kronos
ITV
Schweppes
" Following our regional officers dinner I am happy to let you know that I have already recommended you to two other event organising companies since I can do so with the absolute confidence that you will provide an evening to remember. The verbal response from our members was stunning! "

Martin Wells, Head of Operations, The Personal Finance Society
" I attended a dinner last night and the after dinner speaker was excellent. I was extremely impressed by his professionalism and by the way he engaged the audience and kept our attention in an original and entertaining manner, while also delivering the key messages on behalf of the organisation. "

Katharine Nicholson, Business Transformation, Prudential (delegate at Electronics Scotland conference)
" Thank you for a very entertaining and informative opening session at the conference – everyone I spoke to really enjoyed it. It was certainly the most stimulating presentation I have seen…. "

Martyn Powell, New Forest District Council
" Thanks again for being the superb icing on the Whirlpool cake – your delivery and messages into the PJH team event on the evening were perfect, and as you saw from their reaction very much appreciated. The morning after they were still talking in animated terms about how much they enjoyed your speech so I think you can be sure that you have created a few more JS believers! Great to work together again, I really enjoyed it and was delighted it went so well for us both. "

Andy Burns, Head of Marketing, Whirlpool Corporation
" Just a note to say I thoroughly enjoyed your "presentation" – it was fascinating to see a true master at work, someone at the peak of his craft. What I found particularly interesting was how much you seemed to be enjoying it yourself, that seems so important to me. You really topped the event off and made it complete and nicely rounded for Tarmac, well done.Allan Trayes, Consultant and fellow conference speaker "

Tarmac Senior Management Conference
" I am writing on behalf of the President, Board of Directors, Members and Guests of The Scottish Oil Club to thank you for your speech at our annual dinner on Friday. I have received much positive feedback. I know I especially liked your talk and I think it's the best that I've heard in the five years I've been doing this event. Thanks!!! "

Rob Schneider, Executive Secretary, The Scottish Oil Club
" John was exceptionally good the other evening. He requested an extensive brief on the audience and the industry at large. His grasp of that brief and his recall never ceases to amaze me. The dinner was the first of its type in this particular conference and it was important therefore to ensure that all went well. We went for John as he is not only a safe pair of hands (we used him in 2000 at the Belfry as well) but can also connect with his audience really well. There is no doubt John helped to get our two day conference off to a great start and I would have no hesitation is recommending him to anyone. "

John Cessford, Marketing Manager, BOCM Pauls
" Wow, what a fabulous contribution and impact you made to our EMEA conference! Without exception everyone has said what a brilliant job you did ! You truly were the glue that made everything stick together, keeping energy levels high and the momentum going! It was our best ever conference - of that I am convinced - and you played a big part in making that happen! You have set a high standard for all our future conferences! "

Managing Director, Griffiths & Armour Insurance Brokers
" Just a quick note to say thank you for assisting in another great conference. Your professionalism and enthusiasm kept the conference flowing and delivering a highly engaging two days. "

Crystal Stokes, EMEA Regional Manager, Assurex Global​
" Just a quick note to say a huge thank you for your attendance at our Best Practice Awards Dinner last Thursday. The feedback specifically for you has been absolutely excellent. Everyone was talking about it at the after dinner drinks gathering which went on until 4.30am! Your professionalism and attention to detail was staggering and you are unquestionably the best After Dinner Speaker we have ever had. It will certainly be my intention to ask you to join us again. "

Sue Uttridge, Company Secretary, The Property Care Association
" Many thanks for your contribution to our senior management conference over the last two days. The team very much appreciated your humour and amazing memory – and the key messages certainly stimulated thought and discussion. Your contribution was much appreciated. "

Lyn Nicholls, HR Director, Ages