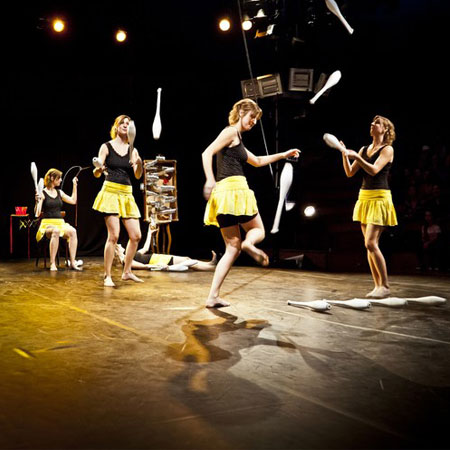 Juggler Anni
Charming artistic club juggling performances will inspire audiences
Flawless demonstration of highly skilled juggling
Offers a diverse range of customisable acts
Has performed at events around the world from Europe to Africa
Based in Germany & available to perform at events worldwide
Anni has been performing her charming brand of artistic club juggling at events around the world from Europe, to the USA, to Africa. Including elements of humour, story telling and trickery her shows are flawless demonstrations of high-skilled out-of-the-ordinary juggling!
Anni offers a range of different shows each playfully choreographed to create a range of entertaining and engaging performances that can be customised to suit your specific event needs.
Show 1
One club, one woman and a challenge… this innovative performance challenges tradition and will pleasantly surprise audiences. Accompanied by classical music, Anni manipulates just one club with incredible skill and precision whilst tied up with rope! A highly artistic performance, this show is utterly elegant and unique.
Show 2
A high-energy juggling act filled with fun and fancy, this show is perfect for after dinner entertainment, corporate events, exhibitions, trade shows and more.
Show 3
This exciting juggling act is about sweet temptation and pure joy. Guaranteed to amuse and entertain, this high technical and humours performance invites the audiences into a universe where marbles whizz through metal tubes, chocolates melt on your tongue and clubs twirl through the air at lightning speed.
Presidential Palace Gabun
Flow Show San Francisco
Circo Circolo Festival
Circus in Beweging
Gala Vivarium Artistikum Tollhaus
Museumsmeile Bonn
Friedrich-Wilhelms-University Bonn
RWE
Bay Area Circus Festival
Rotterdam Circus Stad Festival
Chamäleon Theater Berlin
Festival C Theater Tilburg
Gala Israeli Juggling Convention
Wa! Festival
BigTop Circus NL
" A real renewing performance with a special concept which goes far beyond the usual circus "

Gerrit Reus, circus-producer/impresario/publicist
" An awe-inspiring performance "

General-Anzeiger Bonn
" Best one-club act ever. "

Ryan Mellors
" Her act raised the roof "

Greg Owsley for juggle.org (online magazine of the Int. Jugglers' Association)