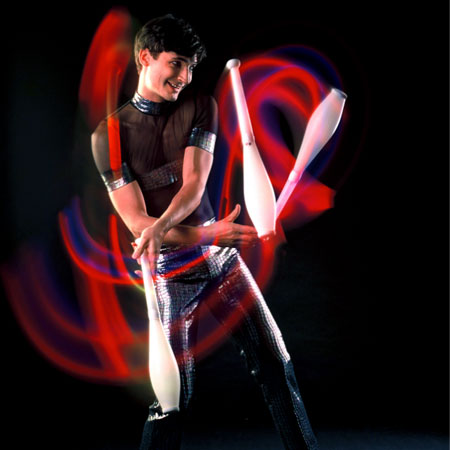 Juggler: Oliver
Innovative, unique and contemporary Juggler and Balance act
Performed across the world in Japan, China and a European tour
As seen on various TV shows in Germany, Spain, Italy & France
Choreographed routines whilst juggling. Great for Trade Show entertainment
Based in Berlin, Germany and available to perform Worldwide
Described as "one of the most innovative jugglers of our generation" this act is a talented and unique performer who has travelled the world performing at festivals and events.
A range of juggling shows are available, depending on the occasion or preferences of the client.  Including;
Club juggling - In a shimmering red spotlight, accompanied by 'Plastic Dreams', five sparkling red and silver clubs twist and turn in the air, dancing around the juggler.  They glide over his head, fly between his legs, occasionally get caught in the bend of his knees, only to rejoin the others in this imaginative performance.  This show demonstrates this artists agility and skill.
Spoon balance – Watch, impressed, as the little silver teaspoon flies through the air and lands on his forehead.  Then, gasp in amazement as he makes the spoon stand on its end, as though it were glued to his head.  This show is something that defies description!
Ball juggling – This juggler compels objects to obey his will, leaving the spectator no time to work out what is happening. The balls roll up and down him, along his arms, down his back, over his head and into the nape of his neck for a gravity defying performance!
Balance Act – The performer plays with gravity and balance to produce a fascinating work of art in motion.  All to music.
Cigarette & match - The cigarette trick. One of the most difficult challenges a human being has devised to test his sense of balance.  What other juggler would dare to finish on such a risky note?  Watch, stunned, as he throws a cigarette behind his back, over his shoulder, and catches it in his mouth.  The same happens to a LIT match.  Just a slight movement of the head is all it takes, and the flame is touching the tip of the cigarette.  Wow!
Bahrain Formula 1
Apollo - Germany
And many more...
ZDF – national German television
Daidogei World Cup - Japan
Genting Highland Resort – Malaysia
BMW
" ....how do you do that one with the cigarette and the match? You're like Einstein - a real genius! "

Nina Hagen (Singer)
" ...he amazes audiences everywhere and even I am continually being impressed by his art. "

Bernhard Paul (Director of Circus Roncalli)
" One of the most innovative jugglers of our generation. "

Max Raabe (Singer)
" His gift to each member of the audience, in addition to his flawless artistry, is the profound pleasure he takes in what he does. "

Meret Becker