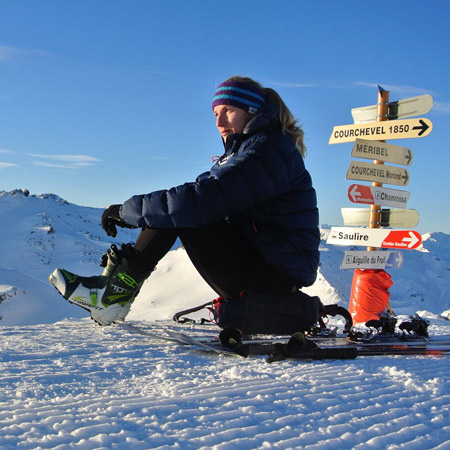 Katie-Jane L'Herpiniere
First woman to walk the entire Great Wall of China
She founded the luxury dog accessories business Hugo & Hennie
She has set goals and taken on challenges beyond her comfort zone
She made the longest crossing by a woman on the Southern Patagonian Ice Cap
Her adventures have been made into two inspirational documentaries: The Great Walk of China and The African Way
Katie-Jane L'Herpiniere PHOTOS
Katie-Jane L'Herpiniere is the first woman to walk the entire Great Wall of China from its most westerly terminus to its most easterly.  This trek took six months and covered 3,000 miles.
Katie-Jane's story is all the more inspiring because she left behind the international catwalk to take on expeditions in hostile environments – swapping high heels for ice-climbing boots; lipstick for crampons and salads for double-cream.  Katie-Jane's unique story is told with great humour and fantastic film footage and photographs.  This acclaimed talk is entertaining, moving, dramatic and awe-inspiring.  Her key messages are about change, challenge and above all, how we have hidden reserves of strength and potential to face the toughest of tasks.  Katie-Jane proves that we can face fear, doubt, exhaustion (and Nature at her worst) and yet still find the courage to take another step and reach seemingly impossible goals.
Katie-Jane L'Herpiniere (formerly Cooper) built a successful career as a commercial model. Working for M&S and Alexander McQueen among many others, Katie-Jane was enjoying the opportunities that modeling created. Katie-Jane acted as Cameron Diaz's body-double in the film 'The Holiday' as well as appearing in several other Hollywood films.  Meeting experienced adventurer and polar explorer Tarka L'Herpiniere, however, changed everything.  They were complete opposites.  Tarka climbed mountains and excelled at endurance events and tough expeditions: Katie-Jane's focus was making it down the catwalk in heels.  And yet as romance bloomed, Tarka suggested they do a major expedition together and Katie surprised everyone by agreeing to the challenge.
Katie-Jane and Tarka decided to become the first people to walk the full route along the Great Wall of China that had been revealed recently by scientists and no one had walked it continuously.  It was to be a harsh six-month trek through inhospitable landscapes.  To succeed, Katie-Jane had to undertake a colossal transformation – she began endurance training, both physical and mental, and she had to put on three stone in weight.
Katie-Jane knew she would have difficult goals in China: walking up to 30 miles a day across difficult terrain while carrying a huge rucksack.  Katie-Jane faced blizzards, temperatures of minus 35°C, frostbite, starvation, exhaustion and dehydration.  She lost an inch in height from the weight of her backpack.  Despite the odds, Katie-Jane and Tarka completed this greatest of journeys from the West to the East – through the heat of the Gobi Desert and the sub-zero temperatures of the mountains – and they treasured their encounters with people from remote rural villages along their route. They completed 4300km (3,000 miles) in 167 days.  A world-first.  And they only argued twice – about directions.
Katie-Jane continues to embrace change and opportunity.  She has set goals and taken on challenges far beyond her comfort zone.  Katie-Jane cycled through Ethiopia (2008) and she also worked as part of a scientific support team near the North Pole (early 2009).  In late 2009, Katie-Jane made the longest crossing by a woman on the Southern Patagonian Ice Cap: the world's third largest ice cap and an area that remains mostly unmapped. Katie-Jane and Tarka's tent was ripped to shreds in a terrifying storm.  They spent 5 nights in a makeshift shelter slowly making there way down a glacier in horrendous conditions (Katie-Jane suffering temporary snow blindness) until reaching safety. Despite not completing the full crossing, Katie-Jane became the first woman to complete a major crossing of this Ice Cap - an extraordinary achievement.  They are also the first British expedition to do so.
In 2011, Katie-Jane founded the luxury dog accessories business Hugo & Hennie and combines life as an entrepreneur with planning her next adventure.
Katie's story reveals that we can leave our comfort zones and achieve what seems impossible.  Her story is about succeeding in harsh conditions and not losing hope and motivation when it gets tough.  Katie is enthusiastic about awaking potential in others.  Audiences relate to her honesty and humour as she talks about her inexperience and the changes she has made in leaving the glamorous world of modeling behind.
Katie-Jane and Tarka's adventures have been made into two inspirational documentaries: The Great Walk of China (2009) and The African Way (2009).  Their story has featured on BBC and ITV news, UK national newspapers such as The Telegraph and Sunday Times and magazines such as Bella and Hello!
Speaking Style
Natural, vivacious, entertaining and charming, Katie brings alive the highs and the lows of her journey through remote, rural China and across the Patagonian Ice Cap. Katie's story is delivered with good-natured humour and candid honesty and audiences enjoy hearing about her transformation from glamorous model to endurance athlete and adventurer and entrepreneur. 
To book this female adventurer motivational speaker, contact us at Scarlett Entertainment. 
" We thought that Katie was lovely and that her talk was fascinating, especially hearing about the many challenging situations that she had to overcome. I was very grateful that she joined us afterwards to continue to answer questions in the less formal setting of the hotel bar too! "

HSBC Insurance
" What can we say. Katie-Jane was an absolute inspiration and made our final Women in Business Lunch this year the best yet. Her strength of character and courage knows no bounds and the whole audience was speechless with many tears at the end of her fascinating insight into model turned adventurer. Highly recommended and absolutely fascinating. "

Unique: Women in Business
" Engaging, inspirational and humbling. Katie's story portrays the life and journeys of unique and driven individuals, testing their bodies and mental strength in some of the most hostile environments known to mankind. Whilst many of us can only marvel at the physical achievements undertaken, the real message is in the focused approach to tasks that can be accomplished and only excuses will prevent you from achieving. "

Bournemouth University
" I have to say that Katie-Jane was THE most inspirational speaker I've ever seen (and I've seen a few) I was absolutely transfixed throughout the whole presentation and have to say I didn't want it to end!! "

Dale Carneige