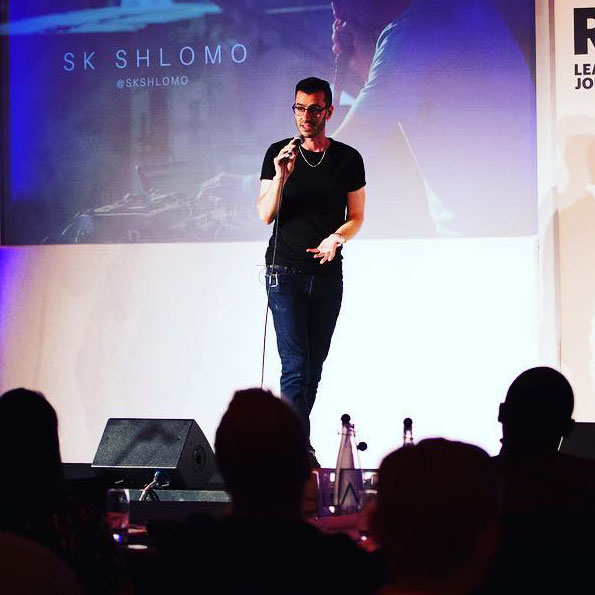 Keynote Speaker Shlomo
Keynote speaker Shlomo delivers fascinating insight into the creative process of a record breaking international artist
Best known for live looping and beatboxing, our creativity keynote speaker is a unique and inspiring corporate speaker
Expertly tailors his performances to maximise engagement with your company's key message
Can deliver energisers to inject excitement before delivering his creativity and technology keynote speech
Based in London, UK, live looping artist SK Shlomo is available for international bookings
Keynote Speaker Shlomo PHOTOS
Looking for an original, exciting and inspiring corporate speaker? Look no further than our exceptional creativity Keynote Speaker Shlomo, an award-winning beatboxer, World Looping Champion and international music artist. 
Inspire innovation in your team with a fascinating insight into the creative process of a record-breaking international artist.
SK Shlomo's motivational technology and creativity keynotes are packed with high-energy performance, heartfelt storytelling, ground-breaking technology and adventures with stars such as Bjork, Ed Sheeran and Damon Albarn. SK Shlomo's raw drive and passion will leave your team amazed and inspired.
Also available as a live music performance, SK Shlomo can perform solo vocal looping and beatboxing, or perform alongside other professional musicians. 
First influenced by orchestral percussion and jazz drums, this fantastic performer has taken his unique act from strength to strength, offering you a highly memorable performance at your event. Featuring creative theatrics and an impressive assortment of vocal techniques throughout, each show is an explosive experience that fully displays our artist's capabilities as a one-man sound machine, with every energised performance bound to leave a lasting impression on your audience.
Scarlett Entertainment offers a huge range of diverse inspiring corporate speakers including creativity keynotes, technology keynote speakers, sports speakers, business, economics, marketing, celebrity and more! Discover our roster of fantastic speakers ready to share their passion and instil motivation into your group.
To book our technology Keynote Speaker Shlomo to generate buzz and inspire your team or colleagues, get in touch with our team of Entertainment Experts who will be happy to help with all of your inspiring corporate speaker needs.