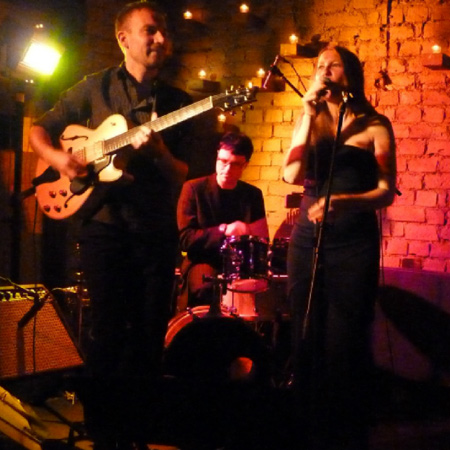 Komedto
5 piece band offering Jazz, Pop and Soul for Corporate events & weddings
Line up includes Vocals, Guitar, Bass, Sax and drums
Set list including Jazz/ Latin and Pop/ Soul
Performed for high profile clients inc Mikhail Gorbachev & Vladimir Putin
Based in Germany and available to perform worldwide
Germany Based Jazz, Pop and Soul band available for Corporate Events, Weddings and private parties.
Available as a 5 piece line up with Vocals, Guitar, Bass, Sax and drums.  Their set list ranges from popular party classics to current hits.  They can also offer an evening of Jazz, Swing and Latin music featuring popular standards.
One of the most in demand groups in Germany, this band can adapt their set and style to suit your event.
A Day In A Life Of A Fool
Angel Eyes
Autumn Leaves
Blame It On My Youth
Blue Bossa
Body And Soul
Corcovado
Don´t Know Why
Fever
Fly Me To The Moon
Girl From Ipanema
Have You Met Miss Jones
In A Sentimental Mood
Lullaby Of Birdland
My Baby Just Cares For Me
My Favourite Things
My Foolish Heart
My Funny Valentine
Natureboy
Nightingale
Over The Rainbow
Seven Years
Song For My Father
Soulmate
Straighten Up And Fly Right
Sway
They Can´t Take That Away From Me
This Masquerade
What A Difference A Day Made
What A Wonderful World
Jazz & Latin
Ain´t No Sunshine
Baker Street
Careless Whisper
Don´t Look Any Further
Easy
Fresh
Hit The Road Jack
Home
I Feel Good
I Will Survive
I Wish
Isn´t She Lovely
Just The Two Of Us
Le Freak
Lovely Day
Smooth Operator
Street Life
Summernight City
Sunny
Superstition
Who Do You Love
You Are The Sunshine Of My Life
You Can´t Hurry Love
You Might Need Somebody
You´re All That Matters To Me
You Sent Me Flying
Pop & Soul
Hertha BSC
Sparkasse Zwickau
Guesthouse Wolfsbrunn Hartenstein
PGM Munich
Health and Beauty Karlsruhe
ACE Auto Center Black Mountain
Chocolate Leipzig
German bank Chemnitz
LHP Frankonia balance Foerster & Partners Tax Consultants Schwarzenberg
Sparkasse Vogtland
Zwickau
El Tintero Gastro Events
BHKS
Mittweida
Cafe Theater Plauen
Robert Schumann Conservatory in Zwickau
Federal Logistics Association in Bremen
School Borna
Saxonn GmbH Dresden
FUCHS congress + incentive GmbH Dresden
Autohaus GmbH Zwickau Conny Jenschewski
Gastro-Kramer & Event Management GmbH in Zwickau
Volksbank eG Chemnitz
Water world "Waikiki" Zeulenroda
Motor Presse Stuttgart GmbH & Co KG
Trio Gastro GmbH Zwickau
Aficionados del Tabaco Zwickau eV
BMW Autohaus Strauss GmbH Plauen Zwickau
Free State of Saxony in Dresden
TYTON MEDIA Chemnitz
Restaurant MANANA Plauen
Lions Club Zwickau
Holiday Inn Zwickau
Andreae-Noris Zahn AG Meerane
XCOM AG of Zwickau
Basil Restaurant Zwickau
Schröder GmbH Cottbus
The program makers Greiz
Roller jeweler Chemnitz
Schlossberg Museum in Chemnitz
Altenburg Altenburg GmbH Distillery & Liqueurfabrik
Model Agency & Show Zwickau ML
Monastery Brasserie's Zwickau
Autohaus Haustein Chemnitz
Regimental Support Squadron Vilseck
Novartis Pharma GmbH
Leonhardt brothers floodplain
Golf Course Zwickau
Audi Centre Zwickau
Hotel & Restaurant Bellevue Schmölln
TNC GmbH Leipzig
Pfefferkorn & Friends Dresden GmbH
Theatre Crimmitschau
Tourism region Zwickau eV
Hetzner Online AG
Dr. Weiske
Hotel at the Chemnitz Opera
Lions Club Auerbach / V.
T-Systems on site services GmbH Berlin
Volkswagen AG Kassel plant
Autohaus Lohs Limbach-Oberfrohna
HMP-pro GmbH Werdau
City of Torgau
Autohaus GmbH Barnath Werdau
Association for Communication Ltd. Avantgarde Munich
Automobile assembly plant in Dresden GmbH
r2_innenarchitektur and design Berlin
u-motions GmbH Karlsruhe
COMEDIA CONCEPT GmbH Chemnitz
Schloss Schweinsburg Neukirchen / splices
Elster forum Gera
Krauss Event AG of Zwickau
GCS GmbH Lichtenstein
City Werdau
Plaintext Zwickau
Bank for Social Economics Dresden AG
OXX. each personality Zwickau
Chemnitz Museum of Industry
Romance Zwickau Hotel Meerane
Kaufpark Dresden
Augustus Augustus castle cellar
BC students Cafe Ilmenau
City Glauchau
Mini World Sachsen GmbH Hartmannsdorf
Central Pharmacy Werdau
Stibi's Inn Altenburg
Autohaus GmbH Goettingen Mon Toy
Erzgebirge Theatre & Orchestra GmbH Annaberg-Buchholz