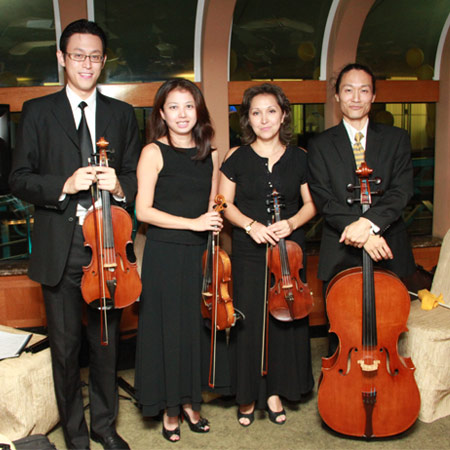 Kuala Lumpur String Quartet
A dynamic, experienced and professional string quartet
Have performed all over Kuala Lumpur, Malaysia and S.E Asia
Expanding repertoire including: popular music, movie themes and broadway
Perfect entertainment act for a private party or intimate wedding
Based in Kuala Lumpur and available to perform at events worldwide
Kuala Lumpur String Quartet PHOTOS
The Kuala Lumpur String Quartet is a dynamic, experienced and professional quartet whose members are between the ages of 30-45.
They have performed at many events including launches, annual dinners, embassy functions, convocations and weddings in Kuala Lumpur, around Malaysia and SE Asia.
All of the members are experienced musicians from Malaysia, France, Spain and Uzbekistan.
Their repertoire includes various contemporary popular music, movie themes, Broadway, Latin dance, Jazz and Classical music and is always expanding.
Air on a G String- J S Bach
Arrival of the Queen of Sheba - Handel
Autumn from "The Four Seasons" - Vivaldi
Brandenburg Concerto No. 3 (1 st movement) - J S Bach
Canon - Pachelbel
Divertimento no. 3 - Mozart
Eine Kleine Nachtmusik - Mozart
Hornpipe - Handel
Jesu Joy a Man's Desiring - J S Bach
Largo from the opera "Xerxes" - Handel
Melodies - Haydn
Minuet & Trio - Schubert
Minuet in G Major - Beethoven
Minuetto - Boccherini
Rondeau - Purcell
Pavane - Faure (Performance Piece)
Rondo Alla Turca - Mozart
Rondo in G - Mozart
Salut d'Amour - Elgar
Sheep May Safely Graze - J S Bach
Spring from "The Four Seasons" - Vivaldi
Summer from "The Four Seasons" - Vivaldi
Vivace - Corelli
Water Music - Handel
Winter from "The Four Seasons" - Vivaldi
Broadway:
Consider Yourself from "Oliver" -Lionel Bart
Don't Cry for Me Argentina from "Evita" -Andrew Lloyd Webber
I Know Him So Well from "Chess" - Bjorn Ulvaeus
If I Were A Rich Man from "Fiddler On The Roof" - Jerry Bock
On My Own from "Les Miserables" Claude - Michel Schönberg
Smoke Gets in Your Eyes from the musical "Roberta" - Jerome Kern
Somewhere from "Westside Story" - Leonard Bernstein
Summertime from "Porgy and Bess" - Gershwin
Maria from "Westside Story" - Leonard Bernstein
Tonight from "Westside Story" -Leonard Bernstein
Classical:
Adagio from the ballet "Spartacus" - Khachaturian
Berceuse from "Dolly Suite" op. 56 - Fauré
Barcarolle - Offenbach
Bridal March from "Lohengrin" - Wagner
Carmen-Bizet
Czardas -Monti (Performance Piece)
Drinking Song - Bartok
Flower Duet from "Lakme"-Delibes
Gymnopedie no. 3 - Erik Satie
Hungarian Dance no. 5 - Brahms
Intermezzo from Cavelleria Rusticana - Mascagni
Intermezzo from the ballet "Sylvia" - Delibes
Meditation from the opera "Thais" - Massenet
Norwegian Dance no. 2 - Grieg
Pieds-en-l'Air from "Capriol Suite" - Peter Warlock
Sarabande -Debussy
Theme from "The Planets" - Holst
Träumerei - Schumann
Waltz op. 39 no. 5 - Tchaikovsky
Waltz op. 39 no. 9 - Brahms
Wedding March from "Midsummer's Night Dream" - Mendelssohn
Movie Themes:
Baby Elephant Walk(Hatari!)- Henry Mancini
Colours of the Wind from Disney's " Pocahontas" - Alan Menken
Forrest Gump - Alan Silvestri
Highlights from Harry Potter - John Williams
Legends of the Fall - James Horner
Love Theme from The Godfather l and ll - Nino Rota
Merry Christmas Mr Lawrence - Ryuichi Sakamoto
Moon River from" Breakfast at Tiffany's" - Henry Mancini
Tango Por Una Cabeza(Scent Of A Woman) - Carlos Gardel
The Kiss from The Last of the Mohicans - Dougie & Maclean
Theme from "Love Story" - Francis Lai
Theme from "Mission Impossible" - Lalo Schifrin
Theme from" ET" - John Williams
And Lots More
Romantic:
Greateastern Assurance
Andrews Models
Various event management companies
The Kazakhstan Embassy
Inner Temple Law Society
Mercedes Benz
And Many More
Maybank Investmentbank