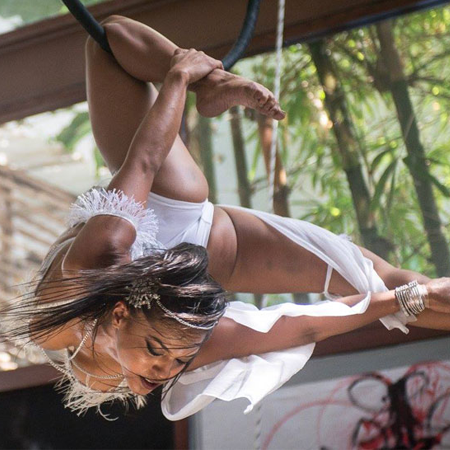 Las Vegas Hoop Aerialist
A Las Vegas Hoop Aerialist who displays outstanding feats of grace, strength and agility
A circus performer who has appeared in Le Noir - The Dark Side of Cirque, Cirque du Soleil and The Illusionists
Available as a hoop aerialist, silk aerialist, pole dancer and fire performer
Can incorporate all disciplines for a high octane circus act that wows audiences of all ages
Based in Las Vegas and available for worldwide bookings
Las Vegas Hoop Aerialist PHOTOS
Displaying outstanding feats of grace, strength, agility and beauty this remarkable Las Vegas Hoop Aerialist boasts the ultimate event entertainment for any occasion looking to wow their guests and provide an unforgettable experience that is incredibly dazzling. 
Having performed in Le Noir - The Dark Side of Cirque, Cirque du Soleil and The Illusionists this exceptional circus performer showcases outstanding talents that make for a gripping performance that is high energy, high in drama and absolutely stunning to behold. 
With a range of talents across many disciplines our Las Vegas Hoop Aerialist can be booked as a hoop aerialist, silk aerialist, pole dancer and fire performer making for a brilliant event entertainment option for any occasion looking for a circus performer who has the whole package. 
Our Las Vegas Hoop Aerialist can customise her performance to complement your event effortlessly whether it's tailoring her costume to match your theme and colour scheme or creating completely custom made showcases that excite all audiences and guests.
Top Tip:
Our Las Vegas Hoop Aerialist can event combine all of her disciplines for a major showcase that is bursting with energy and outstanding talent. 
With years of experience perfecting her routines, this sultry circus act is guaranteed to have every guest looking to the sky as she forms and creates incredible shapes from above.
To discover more circus performers head over to our Circus Entertainment Category and click Aerialists for more outstanding performances and event entertainment option.
To book our Las Vegas Hoop Aerialist or for more information, contact our Entertainment Specialists today.