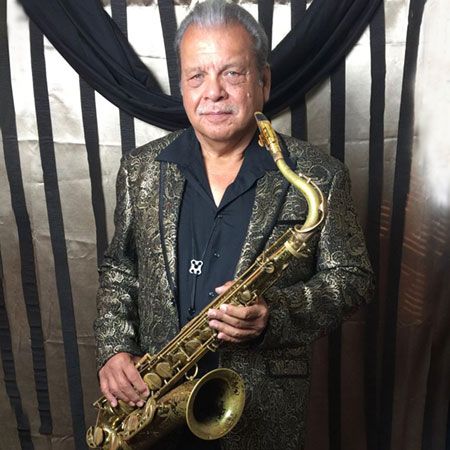 Las Vegas Saxophonist
Experienced and versatile musician can play a variety of saxophone background music
Extensive repertoire covers various genres and styles from jazz, Bollywood, American to Latin and contemporary music
Can adapt his set list to suit your event's needs and requirements and play as a one-man-band
Regularly performs at senior community centres (low volume friendly), restaurants, hotels, private parties, weddings
Our Las Vegas Saxophonist is available for bookings all across the US
Las Vegas Saxophonist PHOTOS
Our Las Vegas Saxophonist is sure to make your event one to be remembered. This experienced and versatile live musician has been performing since he was 15 years old. Passionate about music in general and saxophone background music in particular, this live sax player received a degree in instrumental music and performance from California State University.
His extensive repertoire covers a variety of music genres and styles. From smooth jazz to contemporary music, our versatile live musician can play it all. Throughout his career, our live sax player has been part of different musical ensembles including small groups, rock and swing bands and also symphony orchestras. He has performed on Las Vegas Strip on multiple occasions and has had the privilege to share the stage with big names in the music industry.
As a soloist or accompanied by other musicians, our talented artist can play saxophone background music and create a pleasant atmosphere in which to have a nice meal, share some drinks or have a conversation. This professional musician and retired school band director can play as a one-man-band with backing tracks and Bluetooth technology.
This live sax player regularly performs at community senior centers, private parties, local restaurants, weddings and private parties in Las Vegas and Southern California. He feels comfortable performing for audiences of all ages and different cultural groups. As you can see in the pictures above, he's a popular live music entertainment option for Indian weddings and also birthday parties, book fairs and baby showers, among others.
Scarlett Entertainment offers a broad variety of saxophonists and live music entertainment options for events in Las Vegas, the US and worldwide.
To book our Las Vegas Saxophonist, contact our in-house team of Entertainment Specialists today and make an enquiry. They will be more than happy to provide further details on this versatile live musician and guide you through the booking process.
A Foggy Day - Frank Sinatra
Aashiyan – Bollywood
All About That Bass – Meghn Trainor
All of Me – John Legend/Tiesto
Always – Kenny G
Ave Maria – Franz Schubert
Baker Street – Gerry Rafferty
Be Our Guest – Disney Classic
Bembe Colora – Celia Cruz
Blank Space – Taylor Swift
Burunduga – Celia Cruz
Can't Stop the Feeling – Justin Timberlake
Cheap Thrills – Sia Sean Paul
Cold Water – Major Lazer featuring Justin Bieber & MØ
Cry Me a River - Julie London
C'est la vie - Khaled
Days of Wine and Roses – American Standard
Dil Kya Kare –
Drops of Jupiter – Train
El Cantante – Marc Anthony
Embraceable You - Sinatra Classic
Every Little Thing She Does Is Magic - The Police
Fever (Instrumental) - Peggy Lee
Frenesi (Instrumental) - Latin Standard
Get Lucky – Daft Punk
Going Home - Kenny G
Groovy Kind of Love – Phil Collins
Harlem Nocturne - Earle Hagen
Hevenu Shalom Aleichem – Jewish Classic
Hotline Bling – Drake
I Can't Make You Love Me - Bonnie Raitt
I Left My Heart In San Francisco - Tony Bennett
I Remember You - Diane Krall
I've Got a Crush On You - Frank Sinatra
In My Room – The Beach Boys
Isn't She Lovely – Stevie Wonder
Juana la Cubana – Latin Standard
.Just the Way You Are – Bruno Mars
Kuch Kuch Hota Hai - Bollywood
La Mucura – The Mavericks
La Vie en Rose – Edith Piaf
Let Me Love You -
Lo Toyu Es Mental – Celia Cruz
Mein Tenu Samjhawan Ki - Bollywood
Miss You Much – Never Too Much
Moondance (Instrumental) - Van Morrison
Mucho Corazon – Luis Miguel
My Funny Valentine (Instrumental) - Frank Sinatra
Nice Work If You Can Get It – American Standard
On My Mind -
Oui - Jeremih
Pani De Rang – Bollywood
Perfidia (Instrumental) – Luis Miguel
Que Nadie Sepia Mi Sufrir – Latin Standard
Quizas Quizas Quizas – Nat King Cole
Ribbon In the Sky – Stevie Wonder
Rosa Maria – Latin Standard
Save the Best for Last (Instrumental) - Vanessa Williams
Shape of You – Ed Sheeran
Silhouette (Instrumental) - Kenny G
Smooth Operator (Instrumental) – Sade
Someone to Watch Over Me - American Standard
Songbird – Kenny G
Stay With Me – Sam Smith
Strangers In the Night (Instrumental) - Frank Sinatra
Summertime – American Standard
Sweet Dreams Are Made of This – The Eurhythmics
Take a Bow – Madonna
Tequila (Instrumental) - The Champs
The Girl from Ipanema - Jobim/Stan Getz
The Pink Panther – American Standard
The Way You Make Me Feel – Michael Jackson
Thinking Out Loud – Ed Sheeran
Till There Was You – American Standard
Treasure – Bruno Mars
Tuff – Ace Cannon
Uptown Funk – Mark Ronston with Bruno Mars
Vivir Mi Vida – Marc Anthony
What Do You Mean? – Justin Bieber
When I Was Your Man – Bruno Mars
Wrapped Around Your Finger - The Police
You Are So Beautiful – Joe Cocker
You and I – Stevie Wonder
'S Wonderful - Diane Krall
Aap Jaise Koi – Bollywood
Ain't Your Mama – Jennifer Lopez
All of Me - Frank Sinatra
Always and Forever – Heatwave
As Time Goes By – American Standard
Bailamos – Enrique Iglesias
Bang Bang – Jesse J Ariana Grande Nicki Minaj
Belle – Disney Classic
Billie Jean – Michael Jackson
Breezin' – Bobby Womack
Can't Help Falling In Love – Elvis Presley
Chattanooga Choo Choo (Instrumental) - Glenn Miller
Closer -
Corazon Espinado – Santana
Cumbia del Sol – Latin Standard
Danger – The Flirts
Dhoom Machale – Bollywood
Dreaming of You – Selena
El Cafetel (Instrumental) - Latin Cumbia
El Reloj – Luis Miguel
Every Breath You Take – The Police
Fascinating Rhythm – American Standard
Forever In Love - Kenny G
Gee Baby Ain't I Good for You – Jazz Standard
God Bless the Child – American Standard
Grazing In the Grass (Instrumental) - Boney James
Happy – Pharrell Williams
Heer – Bollywood
Hooray for Hollywood – American Standard
I Believe In You and Me – Whitney Houston
I Heard It Through the Grapevine – Marvin Gaye
I Only Have Eyes for You - Frank Sinatra
I've Got You Under My Skin - Diane Krall
If – Bread
Ishq Wala Love - Bollywood
Jeena Jeena - Bollywood
.Just the Two of Us – Bill Withers
Kiss the Girl – Disney Classic
La Flor de la Canela – Peruvian Classic
La Vida Es un Carnaval – Latin Standard
Let It Go – Disney Classic
Let's Stay Together – Al Green
Marry You – Bruno Mars
Mirrors – Jusrin Timberlake
Moon River – American Standard
Mr. Saxobeat – Alexandra Stan
My Cherie Amour (Instrumental) - Stevie Wonder
Never Too Much – Luther Vandross
No Puedo Olvidarte – Latin Standard
One Note Samba – Bossa Nova Classic
Over the Rainbow (Saxophone) - Frank Sinatra
Pehla Nasha - Bollywood
Put It Where You Want It – Jazz Crusaders
Quien Sera (Instrumental) - Latin Standard
Reasons – Earth Wind Fire
Roop Tera Mastana - Bollywood
Satin Doll (Instrumental) - American Standard
Shake It Off – Taylor Swift
Signed Sealed Delivered I'm Yours – Stevie Wonder
Smile – American Standard
Somebody I Used to Know – Gotye
Song for My Father – Jazz Standard
Starboy The Weeknd Daft Punk
Stereo Love – Edward Maya and Vika Jigulina
Summer Wind – Sinatra Classic
Surfer Girl – The Beach Boys
Take Five – Dave Brubeck
Tennessee Waltz (Instrumental) - Waltz Standard
That's All – American Standard
The Look of Love (Instrumental) - Diana Krall
The Way You Look Tonight - Romantic Standard
They Can't Take That Away from Me (Instrumental) - Diane Krall
This Masquerade – George Benson
Tourist In Paradise (Instrumental) - The Rippingtons
Tu Solo Tu (Instrumental) – Linda Ronstadt
Unforgettable – Nat King Cole
Venus (Instrumental) - Frankie Avalon
We're In This Love Together – Al Jarreau
What's Going On – Marvin Gaye4
Worth It – Fifth Harmony Kid Ink
Yesterday – Sinatra Classic
You Raise Me Up – Kenny G
tand By Me – Ben E King
A Whole New World – Disney Classic
Ain't No Mountain High Enough – Marvin Gaye and Tammi Terrell
All We Know – The Chainsmokers
Alla en El Rancho Grande (Instrumental) - Mexican Corrido
Amore Eterno – Juan Gabriel
Baila Esta Cumbia - Selena
Bali Run – Fourplay
Beauty and the Beat – Justin Bieber
Best Is Yet to Come – Sinatra Classic
Brazil – Pink Martine
Can't Get You Out of My Head – Kylie Minogue
Careless Whisper – Wham
Chura Liya Hai – Bollywood
Coming Home – Jazz Standard
Cumbia del Caribe – Latin Standard
Dancing Queen - ABBA
Desfinado (Instrumental) – Jobim
Don't Let Me Down – The Chainsmokers Daya
East of the Sun (West of the Moon) – Diana Krall
El Pegajoso – Latin Standard
Europa - Gato Barbieri
Ex's & Oh's – Elle King
Fly Me to the Moon - Diane Krall
Frim Fram Sauce – Diana Krall
Go the Distance – Disney Classic
Gone Too Soon – Michael Jackson
Hang On Little Tomato – Pink Martini
Hawaiian Wedding Song – Wedding Classic
Honky Tonk – Bill Dogget
Human Nature – Michael Jackson
I Got Rhythm – American Standard
I Need to Know – Marc Anthony
I Wish – Stevie Wonder
If I Didn't Have You – Disney Classic
In the Mood (Instrumental) - Swing Standard
Jai Ho – Bollywood
.Jump Jive an' Wail – Louie Prima
King of Pain (Instrumental) - The Police
La Cumbia (Instrumental) - Latin Cumbia
La Sopa en Botella – Celia Cruz
Lean On – Major Lazer featuring MØ & DJ Snake
Let's Fall In Love – Diana Krall
Love Me Like You Do – Ellie Goulding
Mi Gente – Hector Lavoe
Misty – American Standard
Morning Dance – Spyro Gira
My All – Mariah Carey
My Way (Instrumental) - Frank Sinatra
Night and Day – American Classic
One Hand One Heart – West Side Story
Outside – Calvin Harris with Ellie Goulding
Passionfruit Drake
Piel Canela – Latin Standard
Que Sera Mi China – Tito Puente
Really Don't Care – Demi Lovato
Rock With You – Michael Jackson
Sabor a Mi (Instrumental - Kenny G
September – Earth Wind Fire
Side By Side – Ariana Grande Nicki Minaj
Sin Ti – Luis Miguel
Solamente Una Vez (Instrumental) – Luis Miguel
Somos Novios – Luis Miguel
Spooky – Classics IV
Stella By Starlight – American Standard
Sugar – Maroon 5
Superstition – Stevie Wonder
Sympathique – Pink Martine
Tea for Two (Instrumental) - Latin Cha-Cha-Cha
That's the Way of the World (Instrumental - Earth Wind Fire
The Lady Is a Tramp - Frank Sinatra
The Warmth of the Sun – The Beach Boys
Theme from New York New York – Sinatra Classic
This Is What You Came For – Calvin Harris featuring Rihanna
Together Again – Dave Koz
Tu Hi Re - Bollywood
Under the Sea – Disney Classic
Usted – Luis Miguel
We Found Love – Rihanna w/Calvin Harris
What a Wonderful World - American Standard
Wind Beneath My Wings – Bette Midler
Yeh Sham Mastani - Boillywood
You Make Me Smile – Dave Koz
You've Got a Friend In Me – Disney Classic
A Thousand Years – Christina Perri
Ain't Misbehavin' – American Standard
All I See Is You - Dave Koz
All the Way (Instrumental) - Frank Sinatra
Amado Mio – Pink Martini
Baden Pe Sitare Lapete -
Balam Pichkari - Bollywood
Beauty and the Beast – Disney Classic
Besame Mucho (Instrumental) - Diane Krall
Blurred Lines – Robin Thicke with T.I. and Pharrell Williams
But Not for Me – George Gershwin
Cao Cao Mani Pacao – Celia Cruz
Cherry Pink and Apple Blossom White (Instrumental) - Latin Standard
Colours of the Wind – Disney Classic
Cuando Caliente el Sol – Luis Miguel
Dance With My Father – Luther Vandross
De Hombre a Mujer – Latin Standard
Do Nothin' Till You Hear from Me -
Earned It – The Weeknd
El Huevo de Colon – Latin Standard
Endless Love – Luther Vandross and Mariah Carey
Everything She Wants - Wham
Fields of Gold - Sting
Friend Like Me – Disney Classic
Glad You Came – The Wanted
Golden Lady – Stevie Wonder
Gulabi Aankhen - Bollywood
Hava Nagila – Jewish classic
Holding Back the Tears - Simply Red
How Long Has This Been Going On – American Standard
I Feel It Coming – The Weeknd Daft Punk
I Love L.A. – Randy Newman
I Will Always Love You – Whitney Houston
If I Ain't Got You – Alicia Keys
In a Sentimental Mood – Jazz Standard
I'd Rather – Luther Vandross
Jugo de Pina – Latin Standard
Ka Ho Naa Ho – Bollywood
La Barca – Luis Miguel
La Puerta – Luis Miguel
Lady – Kenny Rogers
Let Me Love You – DJ Snake Justin Bieber
Locked Out of Heaven – Bruno Mars
Mi Cucu – Sonora Dinamite
Mister Magic – Grover Washington
Moonglow – American Standard
Mustang Sally – Wilson Pickett
My Heart Will Go On - Kenny G
Night Changes - One Direction
One Dance – Drake featuring Wizkid & Kyla
Our Love Is Here to Stay – American Standard
Part of Your World – Disney Classic
Pick Up the Pieces (Instrumental) - Average White Band
Que Rico el Mambo! – Perez Prado
Rather Be – Clean Bandit
Rock This Town (Instrumental) - The Stray Cats
Royals - Lorde
Sentimental Journey – American Standard
She Could Be Mine – Dave Grusin
Siman Tov – Jewish Classic
Soch Na Sake - Bollywood
Somewhere Over the Rainbow – Iz
Spanish Eyes – Al Martino
Stay – Rihanna and Mikky Ekko
Strike Up the Band – American Standard
Sun Rah Hai Na Tu – Bollywood
Sweet Georgia Brown – American Standard
Te Conozco Bien – Marc Anthony
Teri Ore – Bollywood
The Horse – Booker T and the MGs
The Shadow of Your Smile – American Standard
The Wedding Song – Kenny G
This Girl – Kungs & Cookin' On 3 Burners
Titanium – David Guette Sia
Triste (Instrumental) – Jobim
Tum Hi Ho - Bollywood
Usted Abaso – Celia Cruz
Watch What Happens – Bossa Nova Classic
What You Won't Do For Love – Bobby Caldwell
When She Loved Me – Disney Classic
Yeh Samaa Samaa Hai Yeh Pyarr Ka – Bollywood
You Are the Sunshine of My Life – Stevie Wonder
Young and Beautiful – Lana Del Rey
Mambo No. 5 – Perez Prado
Arizona Golf Resort Hotel Spa & Conference Center Mesa AZ
Flamingo Las Vegas Las Vegas NV
Knott's Berry Farm Hotel Buena Park CA
The Resort at Pelican Hill Newport Beach CA
Anaheim Plaza Hotel & Suites Anaheim CA
The Eastside Restaurant and Bar Kapaa HI
JW Marriott Phoenix Desert Ridge Resort & Spa Phoenix AZ
Palms Place Penthouse at the Palms Casino Resort Las Vegas NV
Whittier College Whittier CA
DoubleTree by Hilton Hotel Whittier Los Angeles Whittier CA
Hyatt Regency La Jolla at Aventine San Diego CA
The Palazzo Las Vegas NV
The Westin Long Beach Long Beach CA
DoubleTree by Hilton Hotel Ontario Airport Ontario CA
Holiday Inn La Mirada La Mirada CA
Pacific Palm Resort City of Industry CA
Sheraton Universal Los Angeles CA
DoubleTree by Hilton Hotel Monrovia-Pasadena Area Monrovia CA
Holiday Inn Irvine South/Irvine Spectrum Lake Forest CA
Oviatt Penthouse Los Angeles CA
Sheraton San Diego and Marina San Diego CA
Crowne Plaza San Jose-Silicon Valley Milipitas CA
Hilton Waterfront Beach Resort Huntington Beach CA
Nightclub & Bar Convention & Trade Show Las Vegas NV
Sheraton Park Hotel at the Anaheim Resort Anaheim CA
California State University Fullerton Fullerton CA
Grand Romance Riverboat Long Beach CA
Los Angeles Convention Center Los Angeles CA
Sheraton Hotel Fairplex and Conference Center Pomona CA
Caesar's Palace Las Vegas NV
Fremont Marriott Silicon Valley Fremont CA
Lexus Club at Staples Center Los Angeles
The Ritz Carlton Marina Del Rey Marina Del Rey CA
American Academy of Periodontology Convention Los Angeles CA