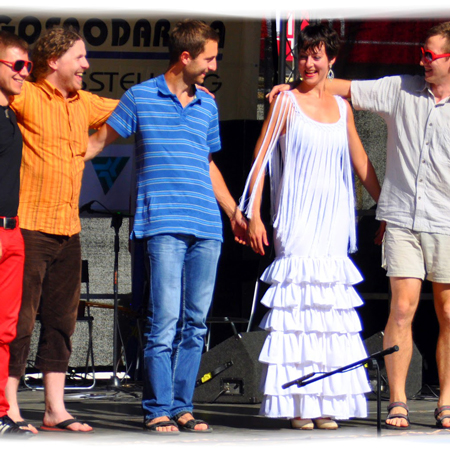 Latin Jazz Trio
Brilliant Latin jazz band will dazzle audiences with their incredible musicianship and performances
Stylish flamenco band will get any audience in the mood to dance with their exotic rhythms and stylish performances
Latin jazz show can perform with gorgeous flamenco dancers for a thrilling visual spectacle
Acclaimed jazz trio have performed all over Europe in clubs, venues, festivals and shows
Jazz band based in Poland and available for performances around Europe
Book this fantastic Latin jazz trio for an exotic and exciting performance at your event. Our jazz band performs a lively and swinging style of jazz music that's sure to appeal to audiences at any event. Our Latin jazz experts will dazzle any audience with their incredible musicianship and their electrifying performances of a whole range of Latin, Spanish and flamenco music. Guests will love the vibrant and stylish atmosphere this flamenco band creates and their music perfect for jazz clubs, restaurants, weddings, events and performances of any kind. Book this excellent jazz trio for a professional and passionate performance that perfectly captures the thrilling and passionate spirit of Latin music.
Our Latin jazz trio bring the music and style of flamenco and Latin music to events all around Poland, Germany and throughout Europe. Our magnificent jazz band has performed well received shows at big venues around Europe like Żary House of Culture, Club JazzKino, Club Kawon and Bar Haust among many others. Performing with two acoustic guitars and percussion, their unique and exotic sound will create a scintillating atmosphere at any event and their spirited rhythms and dazzling musicianship are just the thing for getting guests in the mood to party.
Our fantastic flamenco band is one of the leading jazz trios in Poland and their eclectic, dynamic performances are not to be missed. For an added visual thrill our jazz trio can be accompanied by live flamenco dancers in traditional Spanish attire for an authentic and exciting music and dance show. Book our Latin jazz musicians for a virtuoso performance that will be the highlight of any evening.
Scarlett Entertainment offers you a fantastic selection of jazz and blues bands in a range of styles from around the world.
To book our Latin Jazz Trio contact our expert team.
Club Kawon (Zielona Góra)
Club Jazzgot (Zielona Góra)
Bar "Haust" (Zielona Góra) - in Lubin
Żary House of Culture
Club JazzKino (Zielona Góra)
Restaurant Bachus (Zielona Góra)
Restaurant Euforia in Lubin
Zielona Gora House of Culture