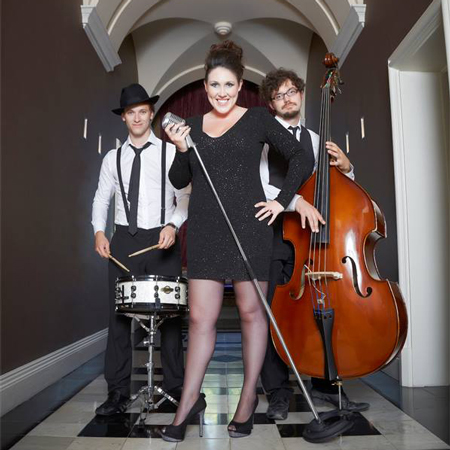 Lipstick Jazz Band
Sensational jazz band will dazzle guests with their incredible skill and vibrant performances
Smooth and stylish five piece jazz band will create the perfect party atmosphere
Suave swing band play a huge range of jazz and blues standards alongside modern hits
Covers band perfect for adding ambience to dinner parties or getting people up and dancing at weddings and parties
Function band available for events across the UK
Book this fantastic five piece jazz band for s stylish and suave performance at your event. This dynamic and talented jazz band is the perfect addition to any event and their classy jazz covers are sure to please audiences anywhere. Our swing band are one of the leading acts on the UK wedding and function scene and are making a real name for themselves with their smooth music and vibrant performances.
Guests at any event will love the sophisticated and elegant atmosphere this covers band creates, and their incredible musical skill is sure to impress. Our function band play from a huge range of songs, from classic jazz and blues standards to modern favourites and big hits. Transform your event into a sizzling jazz club with this incredible jazz band and let the good times flow all night.
Our scintillating jazz band is the perfect choice of entertainment for everything from high end dinner parties and cocktail receptions to weddings and corporate events across the UK. This covers band have toured up and down the country dazzling audiences with their electrifying performances and virtuoso skills.
 Our function band is known for their ability to play off the audience and select the perfect songs to keep the energy and passion flowing throughout the evening. Our swing band is perfect for adding a bit of vintage ambience to dinner parties and equally comfortable taking centre stage at cabaret nights and filling dance floors at wedding receptions with their choice of lively, swinging covers. featuring a versatile line up of female vocals, piano, double bass, trumpet and drums this spectacular jazz band are the perfect choice for events and parties of all shapes and sizes. 
Scarlett Entertainment offers you a fantastic range of jazz and swing bands to entertain guests at events, weddings and parties.
Contact our team and let us find the right act to suit you.
" Well what can we say. They are truly amazing! They really were the highlight of our evening in every way. Their quality and professionalism were five star and they created the perfect environment for our wedding.
They really played to the audiences requirements and were very good at judging what songs to play next.
Nikki was excellent at deciding when to start each set and I, as the bride, was completely stress free.
We had so, so, so many compliments form our guests about this band we would recommend them very highly.
They even played a few more lively songs at the end. 
If you are thinking of having this band for your wedding I would say DO IT! and spend the extra for as many instrument as possible. Nothing sounds better than a loud Jazz band! "

Fern and Phil