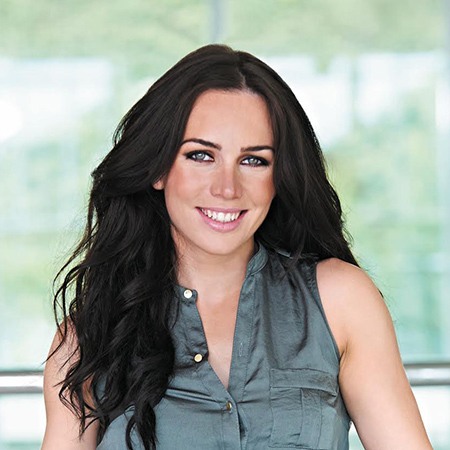 Liv Boeree Keynote Speaker
Leading female professional poker player, astrophysics graduate and an exceptional science communicato
One of the finest players the UK has ever produced, Liv's over $3.7m in tournament earning
In-demand keynote speaker, her speech topics include Probability, Rational Thinking, Decision Making Under Pressure or Women in a Man's World
Popular TV presenter and host with an acclaimed TED talk that attracted over 2 million views
Liv Boeree is available for events across the UK and worldwide
Originally from Kent in England, Liv Boeree is one of the most successful female poker players of all time, with over $3.7m in live tournament earnings. 
Liv studied at the University of Manchester, achieving a first-class degree in Astrophysics. In high demand as a speaker both in the UK and abroad, she is also a popular TV presenter and host. Her TED talk generated online buzz and has reached 2 million views and growing. In this lauded presentation, the British host and emcee shared three strategies she has learned from poker and how to apply them in real-life situations. 
Liv first shows interest in poker when she participated in a reality poker TV show back in 2005. Soon after the show aired, she became a regular TV presenter and host of various poker shows. Not long after that, Liv made her first major live cash when she won the European Ladies Championship in 2008 for $42,000. 
Other highlights of her career as a professional poker player include a remarkable run at the 2009 Five Star World Poker Classic in Las Vegas, where she final tabled two side tournaments and made a top 40 finish in the $25,000 WPT Championship Main Event.
It was not after she played at the European Poker Tour (EPT), a tournament that proved to be one of the biggest ever, when the poker world gave her the credit her game deserves. With a packed field of 1,240 runners and after days of intense action, Liv found herself on the final table, and duly went on to crush the remaining players to take the title and a massive $1,698,300 payday, confirming Liv's status as one of the finest players the UK has ever produced.
A physics lover, Liv is fascinated by the applications of scientific thinking to everyday life. Her goal is to understand how we all make better decisions in this uncertain world. A science communicator, her speech topics include: 
Probability 
Rational Thinking
Decision Making Under Pressure
Women in a Man's World
Keynote speeches include: 
Poker, Probabilities and Philanthropy
Maximising the probability of a bright future
Rational philanthropy
Lessons on Decision Making from a Poker Champion
Scarlett Entertainment offers a wide range of keynote speakers for events in the UK and worldwide. 
If you're interested in having Liv Boeree hosting your event or deliver a speech, contact us today and make an enquiry. Our in-house team of Entertainment Experts will be more than happy to answer all the questions you may have about this leading female professional poker player and assist you in the booking process.