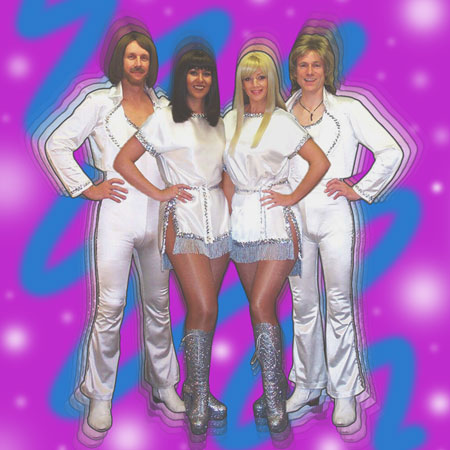 Live Abba Tribute Show
Internationally acclaimed Live six-piece ABBA tribute show
Combine stunning musicianship, authentic costumes, Abba-esque choreography
"Better than the original" - London Evening Standard
Previous clients - American Express, Gucci, Nokia, British Airways, Sky...
Performed worldwide at theatres, festivals, corporate events, weddings
Live Abba Tribute Show VIDEOS
Live Abba Tribute Show PHOTOS
Having thrilled audiences throughout the world with their stunning tribute to one of the world's most successful acts, this internationally acclaimed live band have firmly established themselves in the super-league of tribute entertainment with their ABBA Tribute Show.
This Live Abba Tribute show was formed as a 6-piece band in 1997 with the sole aim of becoming the best "ABBA" tribute band in the World.  Individually, its musicians have toured and recorded with some of the biggest names in show business. Collectively, they are now making a name for themselves.
With meticulous attention to every detail, they have combined stunning musicianship, authentic costumes, Abba-esque choreography and a suitable dose of tongue-in-cheek humour within an electrifying performance to produce a breathtaking LIVE ABBA Tribute Show that appeals to all ages.
But the most important challenge to the band was to recreate the "ABBA" sound absolutely LIVE on stage, without resorting to hidden backing tapes and discs.  After all..... ABBA never used them, so why should an ABBA tribute! The band were determined their audiences wouldn't be cheated with a glorified ABBA karaoke.
And they have succeeded.  Resulting in an ABBA tribute show that delivers the kind of excitement and audience reaction only a LIVE band can deliver. Just like the real ABBA!
Based in the UK, they have not only won over discerning ABBA fans from close to home, but have responded to ever-increasing demand and taken their spectacular ABBA tribute show around the world as word of their perfectionism spreads.
This Abba tribute perform at theatres, festivals, corporate events, private parties, weddings, casinos, colleges & universities, as well as making TV & radio appearances.  Their tribute to ABBA has been embraced by people of all ages and from all walks of life. They are equally at home headlining festivals and performing in front of thousands of demanding "ABBA" fans as they are playing at more intimate, private events such as birthday parties and weddings, where their sole aim is to make someone's "special day" VERY special!
MAMMA MIA
TAKE A CHANCE ON ME
ONE OF US
KNOWING ME KNOWING YOU
RING RING
SO LONG
ON & ON & ON
CHIQUITITA
FERNANDO
VOULEZ VOUS
S.O.S.
LAY ALL YOUR LOVE ON ME
I HAVE A DREAM
SUPER TROUPER
SUMMER NIGHT CITY
GIMME! GIMME! GIMME!
THANK YOU FOR THE MUSIC
DANCING QUEEN
DOES YOUR MOTHER KNOW
WATERLOO
HAPPY NEW YEAR
MONEY MONEY MONEY
Renault F1 Team
British Airways
Intel
Nokia
NatWest Bank
Waitrose
Procter & Gamble
Lever Brothers
Andersen Consulting
Specsavers
Liberal Democrats
IKEA
Maersk
P&O
Madame Tussaud's
UIP - United International Pictures
Exel Logistics
New Look
Severn Trent Water
Cognos Ltd
KPMG Corporate Finance
FourMarketing
Help for Heroes
Royal Air Force
Towcester Racecourse
And many more...
TV / RADIO APPEARANCES
BBC1 - Weekend Watchdog
BBC Radio Devon
Forest FM
RPT1 - Praca da Alegria Portugal
American Express
Sky
Royal Bank of Scotland
Estée Lauder
Peugeot
RAC
Sainsbury's
John Lewis Partnership
British Aerospace
British Embassy Beijing
Bobbi Brown
Selfridges
Oracle
Focus Wickes
Next
Alberto Culver
Pampered Chef
Clas Ohlson
Spandex PLC
HP Software - R&D
INSEAD (Paris)
RES Group
BakBone Software
NSPCC
Leicester Racecourse
Newcastle University
BBC1 - BBC Breakfast
BBC Surrey
Talk Sport Radio
BBC Radio Three Counties
GUC DMC Cairo Egypt
Gucci