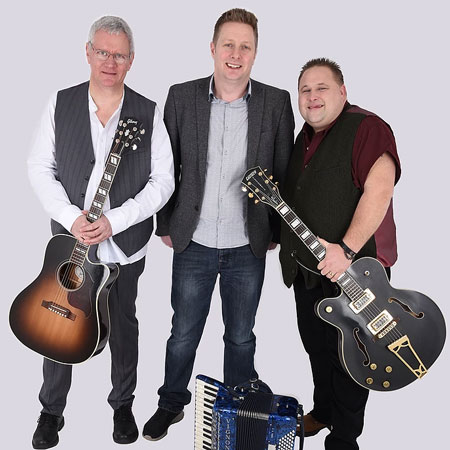 Lively Irish Band
Our fantastic Irish tribute group performs high-energy renditions of well known and traditional Irish songs
Add keys or a fiddle for a live event band with a bigger sound
Quick tempo Irish music for a fun and lively party atmosphere perfect for dancing
Our musicians' talent and passion for Irish music has seen them perform in countries across the world from Dubai to Las Vegas
Based in Darlington, UK, our Lively Irish Band is available for bookings nationwide
The best Irish tribute group to never come from Ireland, our Lively Irish Band have been touring with their unique take on traditional Irish songs for over 10 years.
On a mission to deliver fantastic Irish music that's impossible not to like, our live event band create a sensational high-energy party atmosphere. 
One of the UK's liveliest, highest rated and most professional Irish music bands, our musicians are in high-demand among a range of clients. 
A fantastic live event band option for a whole host of event settings and occasions, our Irish tribute group have played countless weddings and parties, performed at renowned pubs, bars and music venues, as well as travelled across the world to entertain audiences in Dubai, Las Vegas, Germany, Greece and more. 
With a spirited performance style and commanding stage presence, our trio plays a range of animated traditional Irish songs. Expect to hear the likes of The Pogues, The Dubliners, The Saw Doctors, Flogging Molly, The Dropkick Murphys, Brendan Shine, The Fureys, Foster and Allen, and more.
Made up from three talented musicians, our Lively Irish Band consists of lead vocals, guitar, and accordion, accompanied by either keys or fiddle, and backed by professionally recorded drums and bass for a full band sound. Add extra musicians for an even bigger sound if you're looking for higher impact or have a larger venue. 
Demonstrating clear love and passion for traditional Irish music, our musicians have been accepted as a true Irish tribute group.
For more inspiration, take a look through the additional Irish bands we hold on our extensive roster. 
​
To book our Lively Irish Band for a fantastic party full of dancing and traditional Irish songs, get in touch with our team of Entertainment Experts who will help you through the booking process. 
Whiskey In The Jar - own version
Wild Rover - Dropkick Murphys
Sally Maclennanne - Pogues
Black Velvet Band - own version
Las Vegas - Goats don't shave
Galway Girl - own version
I'll Tell Me Ma - own version
Streams of Whiskey - Pogues
I Usta Love Her - Saw Doctors
American Land - Bruce Springsteen
Fall from grace with God - Pogues
Mollys Bar - own version
Dirty Auld Town - own version
Irish Rover - Pogues
Holloway Boulevard - The Popes
Irish Post - Saw Doctors
Ferrymen - own version
R U Looking at me - Ricky Tomlinson
Whiskey You're the Devil - own version
Small Bit of Love - Saw Doctors
When you were Sweet Sixteen
Holy Ground (Fine girl you are) - own version
Paddy Murphy - own version
Body of an American - Pogues
Brown Eyed Girl - Van Morrison
Molly Malone (Cockles and Muscles)
Seven Drunken nights - own version
Nancy Whiskey - The Popes
Bould O Donaghue - Brendan Shine
Fos Las Racecourse
Mottram Hall
Pirelli Club
Springwood Festival
Chepstow Racecourse
Molloys
Peterborough Arena
Rolls Royce
Clearwell Castle
" Absolutely fabulous! The dance floor was full and everyone has said how great they were. "

Wedding - Private Client
" The guys were incredible. They had everyone dancing. They were full of energy and filled the marquee with Irish gold classics "

Wedding - Private Client
" First-class - Everyone said the band made the night, thanks again "

Wedding - Private Client