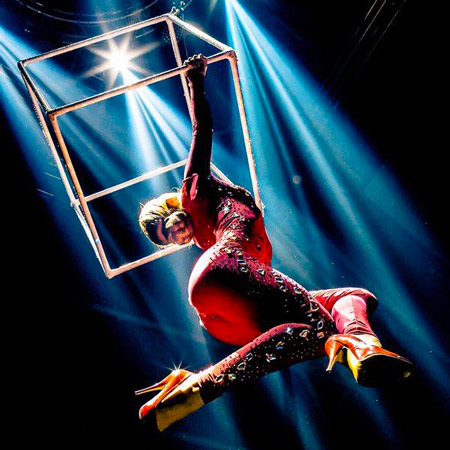 Luxury Aerialist Dubai
Our superbly elegant Luxury Aerialist Dubai is an extremely talented female performer
A glamorous aerialist performing in high-heel shoes with range of magnificent costumes
Diverse range of props including silks, hoops, cube, sphere and much more
Perfect for VIP parties, corporate events, exhibitions, product launches and opening parties
Available for events in Dubai and throughout the UAE
Luxury Aerialist Dubai PHOTOS
Book our superbly elegant Luxury Aerialist Dubai for stunning displays that will give your event the wow factor. This incredibly glamorous aerialist is a fantastic choice for high-end events and VIP parties
The Dubai-based luxury aerialist is an impeccable acrobatic performer who has many years of experience providing top of the range aerial performances that can be tailored to different events types and themes. This very elegant form of entertainment makes an incredible focal point for event, guaranteeing to capture your guests' attention and provides a visual spectacle that will take their breath away. 
The Luxury Aerialist Dubai is a highly skilled performer who has a wonderful range of very glamorous and glitzy costumes ranging from sophisticated white and red colours to sparkly sequin body suits that will reflect lights as she performs high up above the crowd. This very glamorous aerialist also performs most of her routines whilst wearing some very attractive high heel shoes making her look like a model in the air. 
Each and every aerial performance is different and can be completely tailored and choreographed especially for your event. this glamorous aerialist uses a variety of wonderful props that include silks, hoops, cube, sphere, trapeze and much more.
Our Luxury Aerialist Dubai provides the perfect displays for VIP parties, corporate events, exhibitions, product launches and opening parties. You can book her aerial performance for any kind of event throughout the United Arab Emirates and guess will be in awe of her beauty and agility. 
Speak to our team of specialists at Scarlett Entertainment if you would like to book this glamorous aerialist for your special occasion.