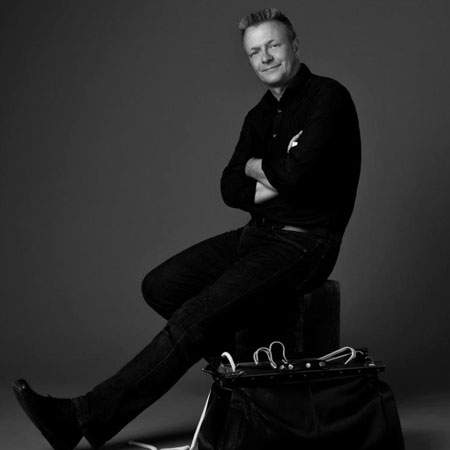 Magician Peter
Performs with a unique combination of magic and comedy
Amazing magical effects accompanied by humour & audience participation
In huge demand with corporate events, exhibitions, weddings, hotels
Previous clients include Mercedes, Ernst & Young, Philips, Microsoft...
Based in Copenhagen, Denmark & available to perform at events worldwide
Magician Peter performs with a unique combination of Magic and Comedy.  He entertains with sleight of hand and sleight of tongue.  He involves the audience, talking with them, treating them as friends, making them laugh and wonder.  This is modern Magic for those who hate to be deceived and Comedy for those who like to be entertained. 
The magic can be performed for as few as 2 or as many as 200 people.  Peter's style is very flexible he can perform under all circumstances. Usually you can find him performing in restaurants, bars, lobbies and hotels as well as on stage or at conferences. 
More than 500 larger companies such as Mercedes, Ernst & Young, Philips, Microsoft have already enjoyed the Magic & Comedy of Peter.
A.C Nielsen AIM
ABB
AHTS
Alka Forsikring
Aloc Bonnier
Andersen Consulting
Arla Food
Arte
ATHENE
AXA POWER
B.W.S.C
Bauhaus
BDO ScanRevision
Berg & Boldrup
Betasystem
Beuvais A/S
BODUM
Bombardier Transportation
BOSCH
Broadcast Service Danmark
BRØDRENE ANDERSEN
Brødrene Hartmann
Brøste
Bull
Bæhncke
Cad-Compagniet
Casco
Chr. Hansen
Clauson-Kaas
Coloplast
Co'mers
Compuware
Conzern
Crimp
DAKA
Damstahl
Danfex
Danish Diagnostic Dev.
Danish Konference Bureau
Danmarks Radio P3
Danpo
Dansk Funktionærforbund
Dansk System Partner
Danske Bank - Danske Ejendomme
Danske Fysiotapeuter
DANUG
Data Discount Erhverv
Deloitte & Touche
Dental Aktieselskabet af 1934
Destination Copenhagen
Det Danske Handelskammer
DGT. VOL. MATIC
DIFKO
DK-hostmasters
Domea
DTC
Døves Vaskeri
e-conomic
Edward Nielsen & Partner
ek-Victoria
Em. Z. Svitzer
Employers Reinsurance
EPLAN Software & Service
Ernst & Young
Eurest
Fagerlund & CO
Falck
Falck Erhverv
FDB
FIH
flexevent
Forenede Gruppeliv
Forsyningen
Frederiksberg Politi
Frem Boldklub
FTF
Føtex
Galle & Jessen
Gerlev Idrætshøjskole
Grafikerne
Grønbeck Construction
Grønvold & Schou
H.Lundbeck
HandelsFinans
Hareskov Elektric as
Hass & Berg
Hemocue
Hindsgaul Maniquins
HK
Holbæk Seminarium
Hotel Star
Hydro Texaco
Høje Tåstrup Kommune
Id Application
ikea
LeasIT
Lokalbanken i Hillerød
Lundgaard & Tranberg ApS
Lyngby-Taarbæk Kommune
Lån & Sparbank
Maersk Training Centre
manbw
Marius Pedersen
MAS Danmark
Mediacentralen
Mekos
Mercedes Sweeden
Metro Engroslager
Microsoft
Midtsjællands Postcenter
mm production
Mölnlycke Health Care
Netto
Nilfisk Advance Nordic
Nivå Golf
Nordea
Nordea Finans
Norrbom & Vinding
Nybolig Jan Milvertz
Nykredit Erhverv
Oracel
Oticon
PBI-Dansensor
Pensionsselskaberne
Pharmacia
Plougmann & Vingtoft
Politikens Reklame
Post Danmark
PriceWaterCoopers
ProAct Systems
PTU
R 98
Ravenholm Computer
Revisionsinstituttet
Rockwool
Rosengrens-Seifert
Roskilde Bank
SAMPENSION
Scandlines Catering
Sct. Elisabeth
shout! aps
Siemens
Silvan Byggemarked
Skattecenter Nordsjælland
Skousen
Soft Design
Sonny Music
SPF-Selskabet
Stigsnæsværket
Stryhn
Superbrugsen
Svenstrupgaard
Sørbymarked
Tajmer
Debitor Inkasso 1
Tec-data
Teknisk Forlag
The Nuance Group
Thorsteinn Patursson
Topdanmark
Torex Retail
Totalentreprenørgruppen
Tryg Baltica
Tumlare Corporation
Tyco
Tømrerfirmaet Børge Nielsen
Unik System Design
VUC Nordjylland
WishBone
Yes! ApS
Ødegaard & Danneskiold-Samsøe
Aalborg Handelsskole
2M-Electronic
A.P. Møller
AH Værktøj
AKF
Aller Press
Alstrøm
APV Systems
Arrow-exatecs
Astra Tech
ATP PensionService
Axcess A/S
Bandagisten
bbi Metal og plastvarer
BEA Systems
Berger A/S
Beton-element/foreningen
Bilka indkøb
Bogpa
Bonniers
Braun
Bruhn NewTech A/S
Brødrene Dahl
Brøndby IF.
BT Danmark
Bürkert-Contromatic
C.C. Brun Entreprise
Carat Danmark
ChaChaCha
Clariant Specialkemi.
Codantaxi
Columbus Relationship
ComputerMac
Conscia
Corning Cabelcon
Dagli`brugsen
Dalton
Dan Net
Danica Forsikring
Danish Distillers
Danka Danmark
Danone
DanSeal
Dansk Kaffekompagni
Danske Bank
Danske Entreprenører
Danske Trælast
Data Con
Decopartner
Demko
Despec
Det Danske Erhvervs Akademi
DFDS Transport
DIANA Jagtrejser
DJØF
DLI
Doms
Dänemark Special Reiser
EAC Erik Levison
edbgruppen
Einar Kornerup
Eli Lilly
Embedit
EOS
Erhvervsfremme Styrelsen
Estée Lauder Cosmetics
Expand
Faglig Sammenslutning af anæstesi-og intensive
Køge Rådhus
Farmacon
FDB Receptioner
First United
FOA Århus
Forsvarskommandoen
Framfab
Frederiksborg Linnedservice/Berendsen
Frölich
Færgegården Juelsminde
G. Sunesen ApS
Gentofte Kommune
Gl. Avernæs
Grey
Grønborgs Tømmerhandel
Gyproc
Handelsbanken
Handelsskolen i Randers
Haslev Udvidede Højskole
Helsinge Kommune
Hermes Kredit forening
Hjort Catering
HK - Erhverv
Home
HRS
Hyundai Forhandler Forening
Højgaard & Schultz
Ide Møbler
Ikano Finans
LEKI AVIATION
Louis Poulsen & Co.
LUXO
Lyreco
MacBaren Tobacco
Maersk-Medical
Mannesmann De Matic
Martin Manufacturing
McDonald
Medico Symposion
Memory Data
Metalskolen Jørlunde
Michelin
Microtronic
Miracle
MT Højgaard
NEG Micon
Neurosearch
NIRAS
NKT
Nordea Bank
Nordwall & Co
Novo Nordisk
Nykredit
Office line
Organon
PA Consulting Group
PE Biosystem
Per Aarsleff
Philips
Plus Data
Polystan
Postdanmark Auto
Privathospitalet Hamlet
Proffice care
Quality Hotel Høje Taastrup
Rank Xerox
Realmæglerne
RIAS
Rosendahl
Rosie Mcgee
Rønnede Kommune
Sauer-Danfoss
Scribona
Selandia
SID
Sigma
Simcorp
Skibby Kommune
Smithkline Beecham
Softworld
Sparekassen Holbæk
STEFF-HOULBERG
Storebælts-forbindelsen
Sund & Bælt
Svenningsens
Svinninge Kommune
Tage Nielsens Tegnestue
TDC Services
TDC Tele Danmark
Techwise
TFS
Thomas Højland Auktioner
TLS
Topnordic
TOSHIBA
TP RADIO
Tryg Forsikring
TV-Ishøj
Tyrolit
Unibank
Vestsjællands Amt
Webtop Technology
Wolff Electronic
Zurich forsikring
AAK
Århus Kommunale Værker
A.A.B.