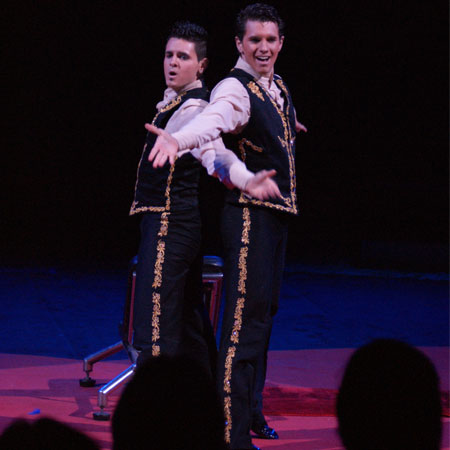 Male Acrobatic Duo
Sensational high-energy acrobatic show will leave audiences breathless
A unique acrobatic circus show with daring lifts, jumps & balances
Have performed with renowned & prestigious circuses from around the world
Hire our circus performers for corporate events, conferences & gala dinners
Book our male acrobatic duo to perform at events in America & worldwide
Offering a sensational high-energy acrobatic show that is guaranteed to leave audiences breathless, our amazing male acrobatic duo come from a long line of circus performers and are natural entertainers with a high skill level.
Renowned for being world-class acrobats, our circus duo has performed for some of the most Europe's most prestigious circuses including Circus Roncalli in Germany and Cirkus Brazil Jack in Sweden, they have also won awards at the Circus Festival of Enschede in Holland and the Artistika Festival in Switzerland.
This is a highly unique circus act that sees two male acrobats perform a fast paced volley of lifts, jumps and balances with the use of a static balance platform; one of our acrobats performs while on top of his partners feet - you won't have seen anything like this acrobatic performance before! Hire our acrobat performers for corporate events in Spain and Europe, that is, if you really want to make a lasting impression.
Born performers with a flair for the circus arts, these natural showmen will not fail to captivate and mesmerise audiences at your event.
Book our acrobat performers for events in America, and worldwide.