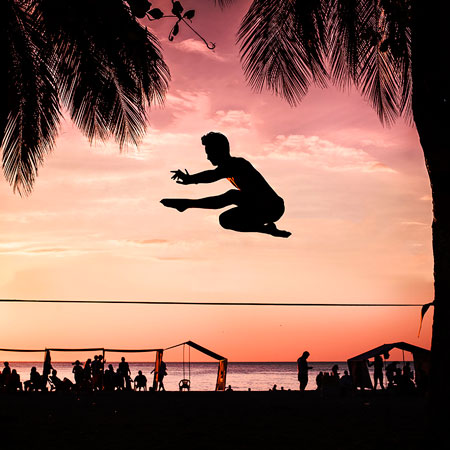 Male Highwire Artist
A circus artist who performs daring routines from the sky has a remarkable ability to bring fluidity and calmness into every performance
This male highwire artist captures his audiences imaginations through conceptual artistry
Performs routines on highwire, tightropes, slack lines, cordelisse, rope and more
Performed his aerial harness routine for the Olympic Games opening ceremonies in Vancouver
Based in Quebec Canada and available for worldwide bookings
Male Highwire Artist PHOTOS
A male highwire artist whose talents know no limits as he performs daring routines high up in the air that not only look incredible advanced but also stunningly beautiful. This multidisciplinary circus artist boasts the full package as he performs aerial routines on highwires, tightropes, slack lines, aerial ropes, harnesses and more. The perfect addition for any event that wants to astound their guests with a show stopping performance as well as provide mesmerising ambient sets for their guests to enjoy.
Before graduating from the National Circus School of Montreal, our performer completed university studies in Environmental Design and Architecture, which has given birth to unique creative designs for sets and various collaborative projects. 
With his first professional experience being the 2010 Olympic Games opening ceremonies in Vancouver this top class performer has had a wealth of experience in performing all over the world for a multitude of different events and tours. 
A fantastic addition to any occasion, this circus artist can incorporate all of his disciplines into one wow factor show to really stun your guests and create a huge impact at your event. Offering large scale performances on highwires that can be stretched over buildings and performed in the streets, this act is perfect for PR stunts and capturing the attention of not only your guests but from bystanders and onlookers near by. 
In addition to his grand highwire routines our circus artist also offers a scaled down version that is performed on a slack line that showcases phenomenal feats of balance and flexibility as well as strength and grace. Perfect for gala dinners, corporate events, private parties and any event that desires an ambient performer. 
Further to his remarkable balancing act on slack line and highwire our performer also offers mesmerising aerial routines that can be intertwined into his other disciplines to create a full show that is stunning to watch. Having performed with Cirque Du Soleil, GOP Variete, Robert Lepage, Cirque Starlight and the Olympics, this circus artist is the ultimate performer for any high end event.
To book our male highwire artist or for more information, contact our Entertainment Specialists today.