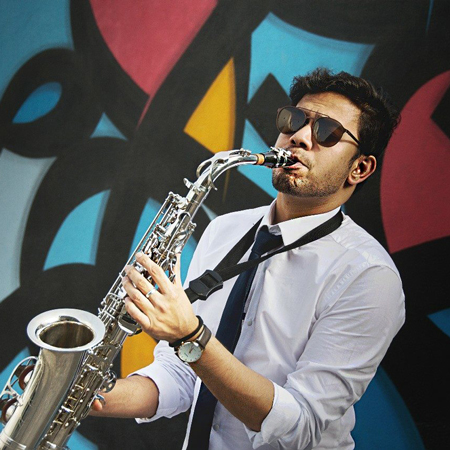 Male Sax Player UAE
Professional sax player and freelance multi-instrumentalist to provide a wide range of live music for your event
Dubai-based musician plays Saxophone, Flute, Guitar, Percussion, Harmonica, Didgeridoo etc depending on the requirement of the client
Able to deliver an easy-going soulful vibe through to upbeat sax alongside a DJ
Clients include The Address Hotel, Dubai Mall, Intercontinental Fujairah, The W Hotel and Art Dubai
Regularly performs with other musicians and can provide and full live band
Our Male Sax Player UAE is a professional freelance multi-instrumentalist that can provide a wide range of live music for your event. The Dubai sax player can serenade your guests in a manner of different ways and create a great ambience for your event. 
The Dubai-based freelance multi-instrumentalist is available to hire performing the saxophone, flute, guitar, percussion, harmonica or didgeridoo all depending on the client requirements. As a Dubai sax player he regularly provides live music for a range of events types and special celebrations. 
The live event sax player in the UAE is able to deliver an easy-going soulful vibe through to upbeat sax alongside a DJ. As an experienced live saxophonist, you can book him for solo performances, with duos, trios and quartets or freestyling to a DJ which adds a fantastic live element to the evening. 
This stylish live saxophonist has a vast repertoire of music and versatile live capabilities. The experienced Dubai sax player is able to cover songs in any genre from jazz to pop and even Bollywood. 
Our freelance multi-instrumentalist has an adaptable approach to every single event and guarantees to deliver the perfect live music for his client. As a live saxophonist, he is currently performing at corporate events, private parties, part-time residencies, product launches, dinner event, special events and much more throughout Dubai and the UAE. 
Our Male Sax Player UAE has entertained guests at The Address Hotel in the Dubai Mall, the Intercontinental Fujairah, The W Hotel, Art Dubai and many others. 
Contact us to find out if he is available for your next live event.