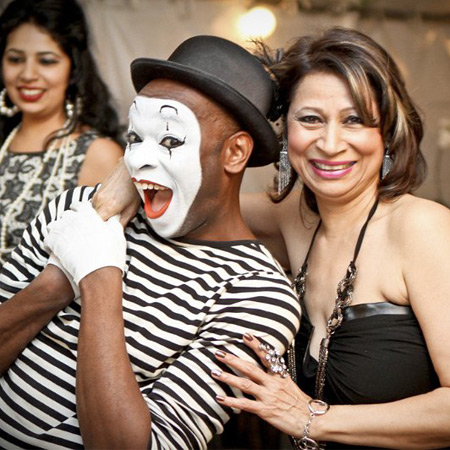 Mime Act Canada
Is regarded as one of the best comedy mime artists in Canada
Hilarious comedic skits set to music and audience participation
His videos are receiving world recognition on YouTube
Can perform comedy stage shows, weddings, corporate workshops and more
Based in Toronto and available to perform at events worldwide
Mime Artist Etenem is regarded as one of the best mimes in Toronto, Ontario. Having already appeared on The Comedy Network, The Big Comfy Couch and other TV appearances, this super talented artist has opened for The Nylons, The Wild Strawberries and many other celebrities. Etenem's videos are receiving world recognition on YouTube. Viral ? Almost! Contagious? Absolutely! Etenem has a variety of performances:
Stage Show:
Why not have your guests sit back and be treated to a silent comedy show. The 15-30 minute shows consist of comedic skits set to music and audience members performing right on stage. The humour, improvisation and stunning mime illusion packed into this show make it a must see and will have your guests literally crying with laughter! A Mime Show with a twist! Etenem can also provide mime shows that are used in corporate presentations, speeches and seminars. Often attendees' minds wander during these affairs, so using mime in unison with a presenter or performing a vignette of to do vs. not to do, engages the minds, stimulates the memory and definitely entertains all at the same time.
Weddings:
Mime skits are tailored made about the bride and groom or husband and wife. Basically, Etenem finds out about both of their mannerisms and characteristics and then acts out how they both met, what a typical date was like and the proposal. All of this is acted out whilst switching between "being" both individuals…with some slight exaggeration of course. It is extremely entertaining and it gives guests an opportunity to see a bit of their history. This is also great for showers, staggettes and anniversaries.
Corporate / School Workshops:
Corporations are always looking for innovative and entertaining ways to build from within. Team building workshops through mime are an effective and fun way to unify an organisation and increase its productivity.
Whatever the occasion, get in touch now to find out how you could hire mime artist Etenem at your next event, for laugh out loud funny moments and memories that your guests will remember and talk about for years to come.
Toyota
Microsoft
Pepsi
Pfizer
CFL
Toronto Blue Jays
Revlon
Givenchy
And Many More
BMW
Walt Disney
Royal Lepage
Coke
NFL
Toronto Raptors
Toronto Maple Leafs
Townshoes
Lalique
Mercedes